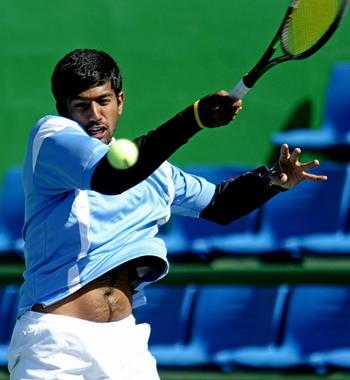 The going has been good for Rohan Bopanna for quite some time now. From reaching the doubles final at the 2006 Chennai Open (along with Prakash Amritraj) to winning his first ATP doubles title in Los Angeles last year (with Erin Boturac) to helping India qualify for the Davis Cup World Group after 11 years, the 29-year-old from Coorg has come a long way.
At the 2010 Chennai Open he's been handed a wild card entry for the first time while he goes into the doubles event as one of the favourites -- partnering the legendary Mahesh Bhupathi.
In a tete-a-tete with Special Correspondent Bikash Mohapatra, Bopanna talks about the draw, his prospects and, of course, his big serve.
A wild card entry for you at last…
Yeah, it's great. The first time I am in the main draw directly.
I think winning a few matches in the Davis Cup last year and also having a few good wins in singles has also helped.
I have qualified a couple of times for this event earlier and I am very happy that the tournament has given me a wild card this year.
I am really looking forward to playing well this week and starting of the year well.
Do you feel vindicated that the organisers have finally recognised your efforts?
It is not a question of vindication or anything. It's just the fact that I have been playing well and the organisers also had in mind that I had played this tournament a few times before and did pretty well.
I am glad they recognised this and gave me a wild card, especially considering the fact that the qualifying draw this time is very tough. Some good matches have been taking place there.
So I am happy to have earned a wild card and play straightaway in the main draw.
There couldn't have been a tougher opening match for you?
(Smiles) Everyone knows he (Stanislas Wawrinka) is an excellent player.
But it's the beginning of the year and the first match for everybody. So I am just going to go there and play my game and try not to think who my opponent is or what his ranking is.
And with a little support from the Chennai crowd I hope I can do well.
In singles, you may well be a crowd favourite, but in doubles (along with Mahesh Bhupathi), you happen to be the tournament favourite. How do you rate your chances?
All the teams are strong. We are as strong as anybody else. You have to take one match at a time. So we are not looking far ahead.
It also happens to be our first match of the year, and a doubles match at that (against the American duo of James Cerretani and Travis Rettenmaier).
So after we are done with that we will take things one by one.
Have you been practising with Mahesh?
Yes, I have been training for the past few weeks with him in Mumbai, in fact for most of the last month or so.
I am looking forward to playing with him. It's an honour for me to play with somebody like him, and hopefully I can make the best out of it.
Finally, are you ready to unleash that big 'Bofors' serve?
(Smiles) Yeah, it is doing fine. I am sure you will see it in the days ahead.