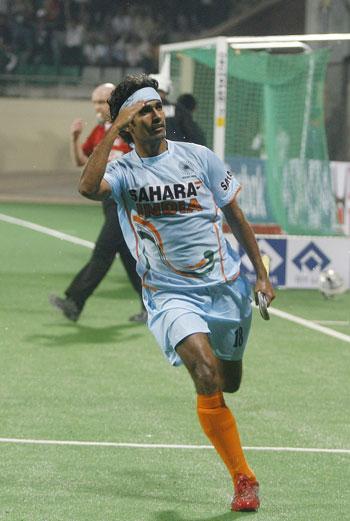 Former India players on Monday smelt a rat behind inform Shivendra Singh's three-match suspension, alleging that it was done intentionally to weaken the hosts ahead of their second match against Australia on Tuesday.
The International Hockey Federation (FIH) tournament director Ken Read, who himself is an Australian, slapped Shivendra with a three-match suspension for deliberately hitting a Pakistani player last night even though the Zeeshan Ashraf-led side did not bring the incident to the notice of the world body.
Former India captain Zafar Iqbal criticised the decision and said such unfair rulings were not surprising for the sub-continent teams.
"It was a very harsh decision and I don't know on what basis they have given it. There was hardly any protest by the Pakistani players. The suspension for three matches is a big blow to India," Zafar said.
"It was not such a big matter, it was part of the game. The match between England and Australia was also very tough and witnessed such incident. The umpire himself has not seen it even though he was very close.
"We Asian countries always have to go thorough such incidents, there is no doubt about it. They always think that we deliberately do it," he said.
Former player Aslam Sher Khan, who was a member of the 1975 World Cup winning side, agreed with Zafar, saying it was deliberately done to down India's morale ahead of the match against Australia.
"Such a harsh decision should not have been given to Shivendra. He is one of our best strikers and his absence in the next three matches will definitely affect India. It's a big blow to us.
"I think it's a conspiracy to make us weak psychologically before the Australia match. For Australia the match against us is a do-or-die game and Shivendra's absence will definitely help them," he said.
He also said that such decisions were not new with India as the eight-time Olympic champions have faced it on many occasions before.
"They (FIH) used to do it earlier in umpiring but with the video referral system in place this time, they opted for other means," Aslam said.
Shivendra is a crucial cog in the forward-line and he opened India's account against Pakistan by scoring from a rebound.
India has appealed against the suspension and the FIH has set up a jury, which will come out with its decision by on Tuesday.
India play Australia in the next Pool B match, followed by ties against Spain on Thursday and England on Saturday.