Even as the vuvuzelas make most of the noise at the ongoing World Cup in South Africa, it is the Jabulani that has players on the field in a tizzy.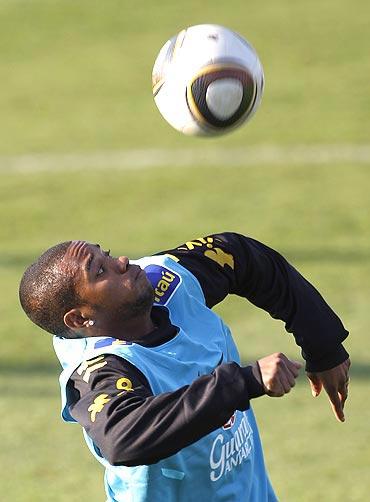 Jabulani, the ball being used for the first time, is in the eye of a storm ever since it was introduced. Spain's Iker Casillas called it 'rotten', while Brazil's Julio Cesar termed it a 'cheap supermarket ball'.
Jabulani means "to celebrate", but the ball gave the likes of England, Spain and Algeria hardly any reason to in their opening matches. Players are struggling with its high-bounce, which often results in over-hitting the passes and running harmlessly out of play.
The horrors of it were first felt by Robert Green, whose howler gave the United States a draw against England.
A day later, a dreadful mistake by Algeria's goalkeeper, Faouzi Chaouchi, handed Slovenia a 1-0 victory.
Chaouchi fumbled with a harmlessly-looking 79th minute shot from Slovenia captain Robert Koren and the ball squirted through his arms into the bottom left hand corner of the net.
So what's the Jabulani all about?
Eleven different colours are used on it; they represent the 11 players in a team, the 11 official languages of South Africa and the 11 South African tribes that make the country one of the most ethnologically diverse countries in the African continent.
The four triangle-shaped design elements on a white background lend the ball a unique appearance in African spirit.
It is quite different from previous balls used.
Most balls are made up of 32 hexagonal panels. The 'teamgiest' ball used at the 2006 World Cup, in Germany, had 14 panels. The Jabulani surpasses it with a mere eight panels.
The Jabulani was expected to bend more, and it is doing exactly that. The Maicon goal against North Korea -- he scored from an acute angle -- proved that goalkeepers can no longer expect the trajectory of the ball to play true.
Goalkeepers are not the only ones struggling with it. Other players too are finding it hard to control. Since it is lighter, it zips through the boot, making its bounce unpredictable.
Italy striker Giampaolo Pazzini was of the view that the ball swerves so much that it becomes difficult to control.
"You jump up to head a cross and suddenly the ball will move and you miss it,' he said.
Statistics show that after the completion of the first round of group games, 25 goals were scored in 16 games.
In 2006, there were 39 in the same first set of 16 games; in 2002, there were 46 in the first 16 and in 1998, there were 37.
So, is the Jabulani to blame? Is the defensive approach of most teams responsible for the paucity of goals? Whatever be the reason, certainly, the Jabulani hasn't brought cheer to the World Cup!