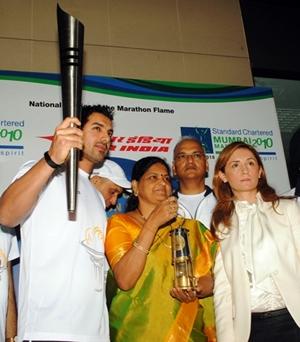 Mumbai became the first-ever destination, outside Europe and the United States, to host the 'Marathon Flame' in the lead up to the seventh Standard Chartered Mumbai Marathon, to be held on January 17.
The flame was brought from the historic city of Greece to the metropolis by champion Greek marathon runner Maria Polyzou.
The flame travels only to select cities that host major marathon races and its arrival in Mumbai is in recognition of the growing popularity of the event that began seven years ago.
Polyzou lit the flame at the international airport and handed it over to Mumbai Mayor Shraddha Jadhav to start the relay.
From the airport, it was then brought to Hutatma Chowk in south Mumbai, where a 15-foot high cauldron was lit up by Maharashtra Deputy Chief Minister Chhagan Bhujbal.
Celebrities from different walks of life, including event ambassador and actor John Abraham, Rahul Bose, writer Shobha De, MP Priya Dutt, model Milind Soman, Olympian Dhanraj Pillay and cricketer Kiran More participated in the relay.
For the first time the competitors will run across the newly-built Worli-Bandra Sea Link this year. The total prize-money on offer is $310,000, of which the men and women's winners will get $35,000 each.
Last year's runner-up David Tarus of Kenya, his compatriot Luka Chelimo and Ethiopia's Gebo Burka are among the top contenders who will participate in the 42-km run.
Ethiopians Haile Kabebush and three-time winner and course record holder (2:34:08) Mulu Seboka are the front runners in the women's race.
Image: Actor John Abraham, Mumbai Mayor Shraddha Jadhav and champion marathon runner Maria Polyzou of Greece with the Olympic flame.