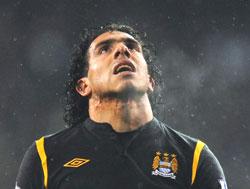 Carlos Tevez flew out of Argentina on Thursday to return to Manchester City after visiting his wife following the premature birth of his second daughter, the sports daily Ole reported.
The Argentina striker had been away from England for 10 days since coach Roberto Mancini gave him compassionate leave and the Italian had said earlier this week he was uncertain when Tevez would return.
"When there is a family issue, football takes a back seat," Tevez was quoted as saying at Ezeiza international airport before barding his plane for Europe.
"I went to the hospital five times (a day) to feed the little girl, I'd come and go, I couldn't watch any football," added Tevez, whose daughter is recovering from a difficult birth.
Tevez's agent Kia Joorabchian reassured Mancini on Monday the player would most likely be back in time for Saturday's Premier League match at Chelsea.