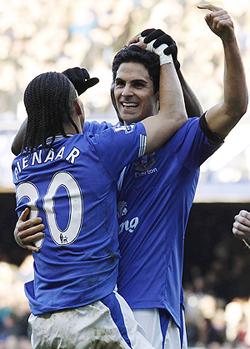 Everton's Spanish playmaker Mikel Arteta has said he would seriously consider playing for England if Fabio Capello ever came calling for him.
"I don't know what (Capello's) thoughts are," Arteta told BBC Sport on Saturday. "If one day the opportunity comes, obviously I would have to consider it very seriously."
British media have linked the 28-year-old to a call-up since he gained British citizenship earlier this year.
Arteta has never played at full international level for his native Spain, who have a plethora of fine midfielders including Andres Iniesta, Xavi and Cesc Fabregas already in their European Championship and World Cup winning squad.