'All is well at the Games Village'
Last updated on: September 27, 2010 17:14 IST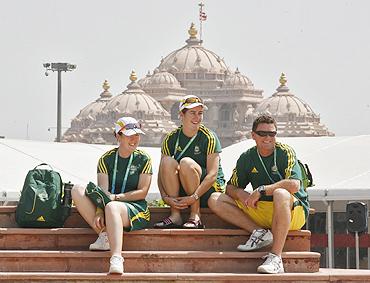 Commonwealth Games Organising Committee Chairman Suresh Kalmadi on Monday claimed that all major problems in the much-criticised Athletes' Village have been sorted out and a majority of the flats are ready to be occupied.
"People are now happy with whatever they have got. Over a 1000 people have come now and they are very happy. Most of the athletes are happy," Kalmadi said.
"80 per cent of the flats are fine. The sun is out and everything will be fine. All the athletes are happy," he said.
'I don't think they have seen a Games Village like this'
Last updated on: September 27, 2010 17:14 IST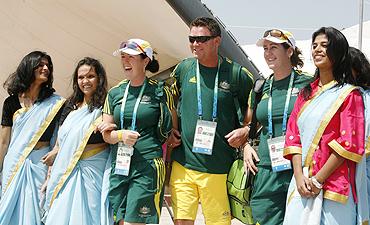 The Games Village was initially dubbed filthy by the visiting delegates and there was more criticism when the South African High Commissioner claimed that a snake was found in the one of the athletes' rooms.
But Kalmadi said all complaints have been addressed.
"We have done whatever that had to be done. Whatever problems were there earlier have been sorted out. I don't think they have seen a Games Village like this anywhere else.
"There is no more scope for improvement," Kalmadi said.
Asked why the cleaning up of the Village was left to just a week before the Games, Kalmadi said this was not OC's responsibility.
"Cleaning is not my job, it should have come clean to us when it was handed over. But everyone is happy now and there would be no further problems. We have some small issues but they will be sorted out," he said.
Aussies happy with Village
Last updated on: September 27, 2010 17:14 IST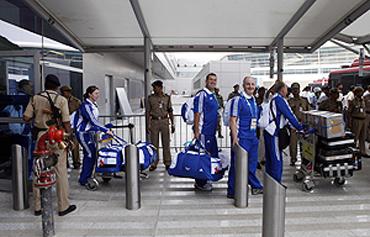 Some foreign delegates were all praise for the sprawling campus where the teams are moving in.
"It is an excellent Village Steve Moneghetti, former marathon gold medallist, who is chef de mission, told Australian media. Today in 25 years of living in a Village, this is as good as he has ever seen," Australian Press attache John Gatfield said.
The first batch of the Australian athletes for the Delhi Games arrived here in the wee hours of Monday and came to the Games Village.
Australia's lawn bowl squad arrived and later in the day their netball and gymnastics teams will join them.
Gatfield, after taking a round of the Village said, "The team was very happy and rooms are very spacious. Excellent food, excellent facilities, he (Moneghetti) is very happy. The team is very happy."
Asked about the fear of a dengue epidemic, he said, "All fears taken care of. No mosquitoes. If you are sensible, you will not get any fever."
Kenyans too give Village the thumbs-up
Last updated on: September 27, 2010 17:14 IST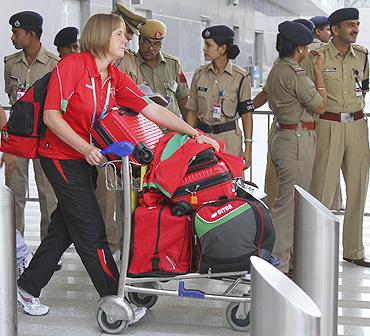 Meanwhile, chef de mission of Kenya Jonathan Koskei also echoed Gatfield's opinion.
"We have participated in such Games in other countries also. The facilities are poorer (than here) in many other countries. We are happy with the facilities; that is why we are here," Koskei said.
Asked about the reported filthiness in some corners of the Village, The Kenyan said, "They are improving hour by hour. The training venues are on and we are practicing there."
"The Village is also okay. The Games will go on," he said with a thumbs-up sign.
'Good arrangements have been made by the organisers'
Last updated on: September 27, 2010 17:14 IST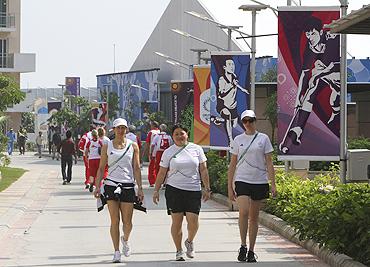 Officials from Jersey, Cameroon and Trinidad and Tobago seemed satisfied with the condition of their respective residential towers and said things are getting better and better with every passing day.
"We are happy with our residential block. It's good and there are no hygiene or cleanliness related issues. Things are getting better every day with officials working round the clock," Moundi Bouba, Medical Personnel, Cameroon said.
"Good arrangements have been made by the organisers. 16 athletes and four team officials from Cameroon are staying at the Games Village at present. We have not found anything to complain about," said Michel Nkolo, another team official from Cameroon.
'I'm enjoying every minute of my stay'
Last updated on: September 27, 2010 17:14 IST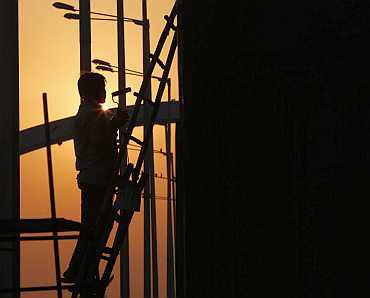 Severe delays in the completion of work in the Village forced Commonwealth Games Federation (CGF) president Michael Fennell to contact the Indian authorities and urge them to finish work on accommodation.
Fennell said advance parties from the international Commonwealth Games Associations had been impressed with the international zone and main dining area within the village, but the condition of the residential zone shocked the majority of them.
Dianne Huddlestone, wife of Jersey's chef de mission Paul Huddlestone and staying at the Village as an accompanying guest, said security arrangements, dining, cleaning of the residential complexes, all have been taken care of by the organisers.
"We are staying at tower number 7 and occupying nine flats. We moved here four days back and I'm enjoying every minute of my stay. Organisers have offered a big living area to us. Security has also been taken due care by the concerned officials. It's just amazing to be here.
'Food is of excellent quality'
Last updated on: September 27, 2010 17:14 IST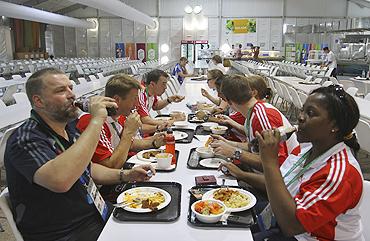 "Food is of excellent quality. I'm gorging on fish curry, vegetable curry and naan bread. It's just great. We are five people staying at the village at present and 52 athletes will arrive here on Wednesday," Huddlestone said.
Paul Newallo, team official, Trinidad and Tobago, said condition at the village is getting better and the organisers are trying their best to meet the deadlines.
"We are satisfied with the efforts organisers are putting in to get certain things done on time. Although our living area is still incomplete, they are trying their best. In 2-3 days, our second batch of athletes will arrive in India and then we all move in here," Newallo said.
International Zone: the biggest hit at CWG Village
Last updated on: September 27, 2010 17:14 IST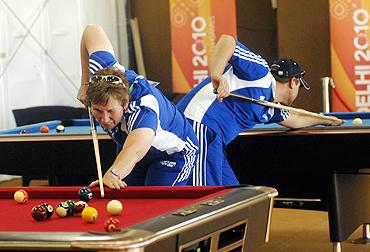 The international zone at the Commonwealth Games Village is turning out to be a massive hit with the athletes and delegates who have checked in.
"The international zone is marvellous and I am sure the athletes would enjoy it," Nigerian Chef de Mission, Elias Gora said after taking a round of the area.
The zone which is a demarcated area in the Village is meant for recreation for the athletes.
"This is the best place in the whole of the Village, I love coming here," an official with the Kenyan contingent said.
Members from the Indian contingent - the first team to check-in at the Village - have been regularly spotted in the zone.
"The international zone is very good. I enjoy spending time there and it is a world-class facility," boxing star Akhil Kumar said.
The state-of-the art golf simulator at the zone which allows one to play golf on a graphically simulated driving range in an indoor setting has been a hit with athletes from many countries.
Shops stocking imported items
Last updated on: September 27, 2010 17:14 IST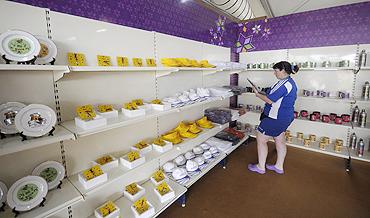 "We had some foreign athletes taking part in virtual golfing action and since we are offering the service for free, we expect many more foot falls once all the teams arrive here," said Ashutosh, the in-charge at the facility.
There is also a gaming zone with billiards tables, a TV lounge, an ice-cream parlour, in addition to shopping opportunities like merchandise shop, handicrafts outlet, electronic store and a general store that sells provisions.
The shops have stored items imported specially from the Commonwealth nations to make the visiting contingents feel at home.
"We have specially imported chocolates, chips and cakes for the athletes so that they don't feel away from their homes," Arun Saini, manager at the general store, said.
Discotheque, saloon for athletes
Last updated on: September 27, 2010 17:14 IST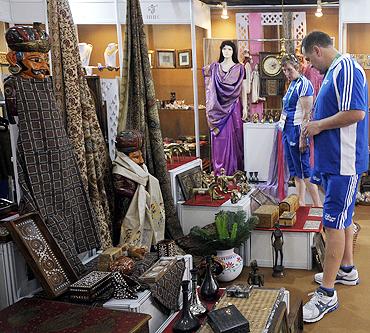 The handicrafts store has art pieces from all over India to ensure that the residents get a feel of the rich cultural heritage and diversity of Indian art.
"From Kashmiri Paper Machie to Banarasi scarves and Kanchipuram silk, our store has specialties from all over India and we have had some curious visitors so far," a manager at the store said while pointing towards the shining metal statues from Moradabad.
A discotheque where athletes can unwind adds to the experience. The restaurant-cum-bar at the zone will also be a special attraction for the foodies who may want to go for gourmet meals.
One more attraction for the look-conscious inhabitants of the 63.5 acre Village is the saloon where many foreign teams including the English have booked advance appointments.
Musical fountain created for athletes to relax
Last updated on: September 27, 2010 17:14 IST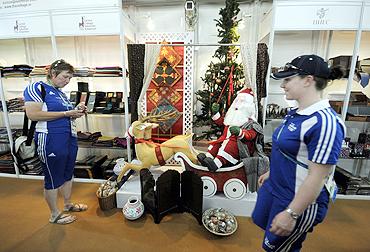 "A manager from the England team came here inquiring about various packages we provide ...the response has been encouraging so far with many advance bookings coming our way," an executive at the saloon said.
The open amphitheater will see flag ceremonies and cultural programs being held for various participating nations. The nearby musical fountain is also a delight especially during the evening hours when lights, water and music produce a mesmerising effect.
"This is the best place for the athletes to sit and relax after all the practice session. Enjoy the evening with the fountain and cultural programs," the Organising Committee (OC) chairman, Suresh Kalmadi said.
International zone received lot of accolades from CGA members
Last updated on: September 27, 2010 17:14 IST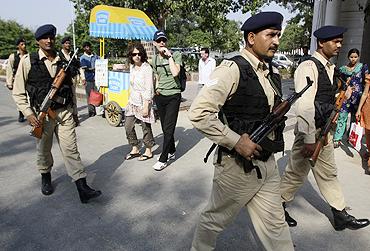 Interestingly, the international zone was one of the first areas in the village that was ready and appreciation has come from all quarters.
"I stand by my statement that the international zone is fantastic. It has got a lot of accolades from different CGA members," Hooper has said.
For the Games village that has been in the eye of a storm over the past few days especially after the pictures of unhygienic residential quarters and incomplete facilities came out, the international zone surely has been a face-saver so far.