'This championship will go down to the last lap in Abu Dhabi'
Last updated on: October 25, 2010 16:14 IST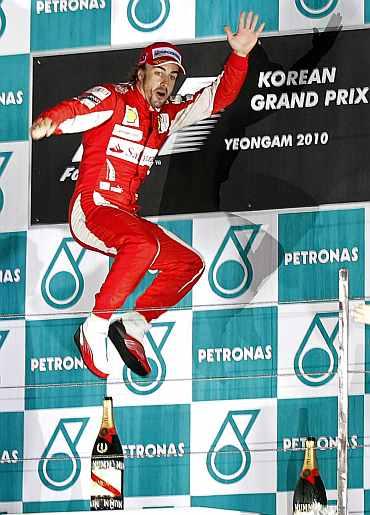 Fernando Alonso could take his third Formula One title in Brazil next week but neither Ferrari nor his rivals expect that to happen after a weekend win in South Korea that owed more to luck than strategy.
Even if the Spaniard won both his previous titles with Renault at Interlagos, and the last five championships have been settled in Sao Paulo, this year's battle is set to be a cliffhanger right to the finale in Abu Dhabi one week later.
"This championship I believe will go down to the last lap in Abu Dhabi," Red Bull team principal Christian Horner told reporters on Sunday.
His two drivers, Australian Mark Webber and Germany's Sebastian Vettel, failed to finish at the new and hastily completed Yeongam circuit some 400km southwest of the capital Seoul.
"There is still only a race win between Sebastian in fourth (place overall) and Alonso in the lead.
"And how many times have we seen this year the championship to and fro? It's impossible to have a crystal ball and predict what will happen in Brazil and Abu Dhabi," he added.
'Brazil is a great circuit and always produces a great race'
Last updated on: October 25, 2010 16:14 IST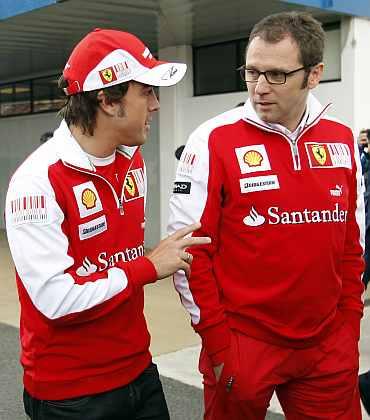 Ferrari team boss Stefano Domenicali also expected a tough fight over the last two races, rejecting a suggestion that another victory in Brazil might be enough for Alonso.
"I don't think so to be honest. I would love it if you were right but I don't think so," he said.
McLaren's Martin Whitmarsh agreed: "Brazil is a great circuit and always produces a great race, but there is little doubt now the championship decider is going to be in Abu Dhabi."
Webber had started the day as overall leader but handed the initiative to Vettel when he crashed out -- only for the German to suffer an engine failure nine laps from the end while leading.
That left Alonso to collect the winner's 25 points and, in the latest twist in a rollercoaster of a season, surge 11 points clear of Webber, who won in Brazil last year.
McLaren's Lewis Hamilton is third and 21 points off the lead while Vettel is four further back. World champion Jenson Button remains mathematically a contender but, 42 points off the pace, the McLaren man is effectively out of the running.
'Luck was a key factor but consistency also crucial'
Last updated on: October 25, 2010 16:14 IST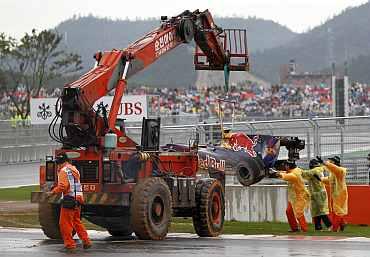 Alonso had said after the British Grand Prix at Silverstone in July, when he finished 14th after a drive-through penalty, that he could still win the championship.
That sounded overly optimistic to some at the time but results since then have more than proved his point.
The Spaniard has won three of the last four races, four of the past seven, and collected more points since Silverstone than any other driver. He also knows exactly what it takes to win a championship and how to handle the pressure.
"We have been doing well, been very concentrated, very focused in the last six or seven races. But we cannot forget we need to be on the podium and fighting for victory in the next two races," he said after his fifth win of the season on Sunday.
Alonso, whose team had railed against the stewards and cursed their misfortune in Valencia in June, said luck was a key factor but consistency also crucial.
"We struggled to be on the podium for one part of the season, as I said, maybe because of the luck factor.
"Now we are achieving more wins than expected because of the luck factor as well, because today we were third and one Red Bull crashed, one Red Bull blew up, so as we said many times, luck at the end of the year is compensated," he added.
'We cannot afford to have any kind of problem'
Last updated on: October 25, 2010 16:14 IST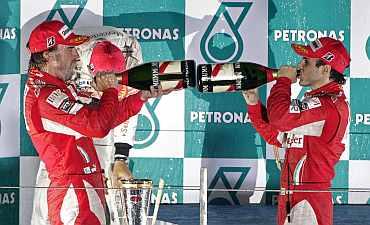 Ferrari, who decided to make Alonso the focus of their title challenge when they invoked 'team orders' at a controversial German Grand Prix in July, will remain focused on improving the car and keeping level-headed.
"The key of the end of the season will be reliability and to keep concentration to the end," said Domenicali.
"Now is the time to be humble and prepare the race in the best way we can. We cannot afford to have any kind of problem.
"They (Red Bull) have a fantastic car. But despite this fantastic car we are there, fighting, and we will fight up to the last corner of the last race," he added.
Source:
© Copyright 2021 Reuters Limited. All rights reserved. Republication or redistribution of Reuters content, including by framing or similar means, is expressly prohibited without the prior written consent of Reuters. Reuters shall not be liable for any errors or delays in the content, or for any actions taken in reliance thereon.