Alonso grabs F1 lead in Red Bull nightmare
Last updated on: October 24, 2010 16:47 IST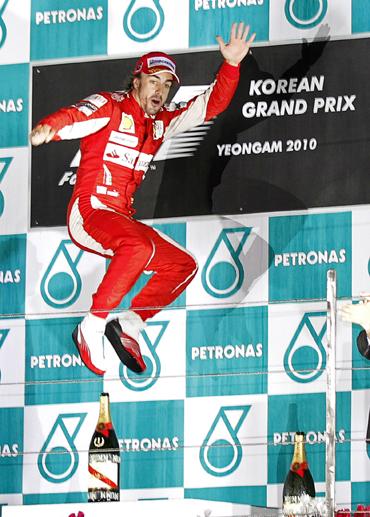 Ferrari's Fernando Alonso won a rain-hit and chaotic Korean Grand Prix to seize the Formula One championship lead on Sunday after both his Red Bull rivals failed to finish.
In an inaugural race delayed by a downpour, started, stopped again and then re-started behind the safety car after a 48 minute wait, the Spaniard could scarcely believe his good fortune and others' bad luck.
With two races to go, and a maximum 50 points to be won under the new scoring system, Alonso celebrated his fifth win of the year to turn a 14-point deficit into an 11-point lead over Red Bull's Australian Mark Webber.
"Beautiful, beautiful. You and the whole team deserved this. Grande!" declared Ferrari team boss Stefano Domenicali over the radio.
Webber, who had started in second place behind team mate Sebastian Vettel on pole, could testify to that.
He skidded on the wet and slippery track, hit the wall and then collected Nico Rosberg's Mercedes with the race proper barely started after what seemed an eternity behind the silver safety car.
"Totally my fault," the Australian, winner of four races this season, told the BBC after making his way back to the paddock. It was only his second retirement in 17 races.
Ferrari's Felipe Massa was third
Last updated on: October 24, 2010 16:47 IST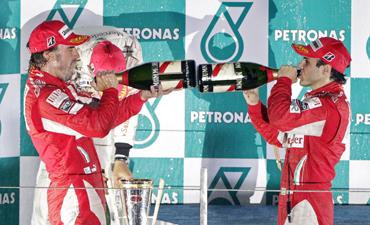 Brazilian Felipe Massa was third for Ferrari.
Seven times world champion Michael Schumacher finished fourth for Mercedes, equalling the best result of his difficult comeback season, with Poland's Robert Kubica fifth for Renault.
Italian Vitantonio Liuzzi was sixth for Force India, ahead of the Williams of Brazilian Rubens Barrichello and Sauber of Japan's Kamui Kobayashi.
Germans Nick Heidfeld, in a Sauber, was ninth and compatriot Nico Hulkenberg 10th for Williams.
The race was started behind the safety car, whose driver Bernd Maylander had his busiest day of the year, after an initial 10 minute delay and then stopped again after just three laps in impossible conditions.
"You can't even see the front tyres when you're on the straight," complained Button over the team radio. "You're just driving completely blind, waiting to hit something."
Lewis Hamilton finished second
Last updated on: October 24, 2010 16:47 IST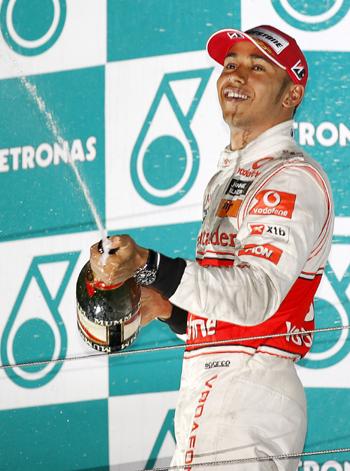 McLaren's 2008 champion Lewis Hamilton finished second, 14.9 seconds behind, and moved up to third overall with 210 points, 21 behind Alonso.
Webber must surely have had to suppress an inner whoop of joy, despite the blow for his team, even if Alonso now looks an even more dangerous foe and favourite for what would be his third championship crown.
Vettel fell to fourth on 206 with McLaren's reigning champion Jenson Button finishing out of the points and effectively relinquishing his title.
The Briton is now 42 points off the lead.
'The engine stopped and I couldn't do anything'
Last updated on: October 24, 2010 16:47 IST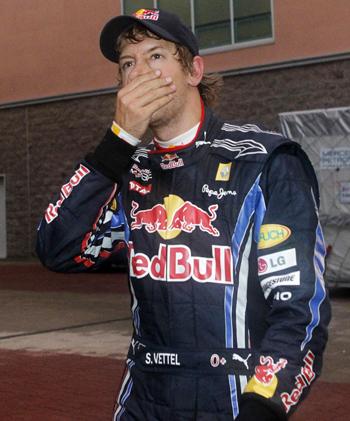 Sebastian Vettel, who started on pole, had seemed destined to win and take over the championship lead for the first time this season, was halted on lap 46 with a blown engine in a nightmare for the championship-leading team whose lead over McLaren was cut to just 27 points.
"You saw, the engine stopped and I couldn't do anything. We'll see, there are two races left," he told television reporters.
"To be on top all the time and controlling the race, there was nothing we could have done better. We did more or less, a perfect job. The race is still on."
Vettel fell to fourth on 206.
It was Alonso's 26th career F1 win
Last updated on: October 24, 2010 16:47 IST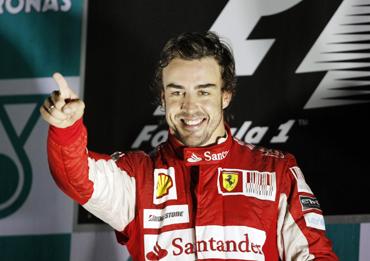 Alonso, now with three victories in the last four races and a career 26 wins, cackled and whooped wildly in reply after taking the chequered flag a full three hours after the race had been due to start.
"This is the best race of the year for the team," he said.
"But nothing has changed really. We all know the new points system. Anything can happen."
Alonso said the victory was "one of those in the trickiest conditions I have ever had."
Source:
© Copyright 2021 Reuters Limited. All rights reserved. Republication or redistribution of Reuters content, including by framing or similar means, is expressly prohibited without the prior written consent of Reuters. Reuters shall not be liable for any errors or delays in the content, or for any actions taken in reliance thereon.