Pele visited India at the twilight of his club career
Last updated on: October 23, 2010 15:54 IST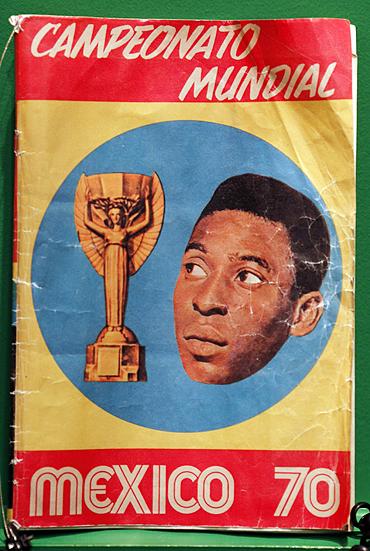 As the legendary Pele turns 70, redif.com looks back at the time when he graced Kolkata's Eden Gardens.
Circa 1977.
It was six years since he had called it quits at the international level.
He was also at the twilight of his club career.
The fact that he had figured in three World Cup-winning squads was at best a pleasant memory for his legion of fans.
The number of goals coming from his once prolific feet was on the decline and what remained essentially were vestiges of what had been a remarkable career.
Hysterical fans awaited Pele's arrival
Last updated on: October 23, 2010 15:54 IST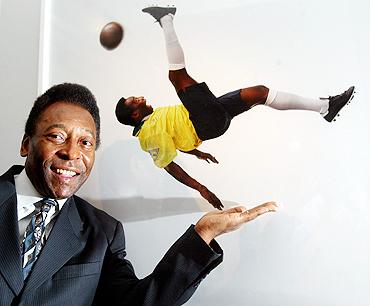 Yet when he came to Kolkata (then Calcutta), on September 22, there was mass hysteria, with hordes of fans thronging the Dum Dum airport to have a glimpse of their favorite star.
Not an unexpected one though.
Considering that the player was none other than Pele.
He played an exhibition match against Mohun Bagan
Last updated on: October 23, 2010 15:54 IST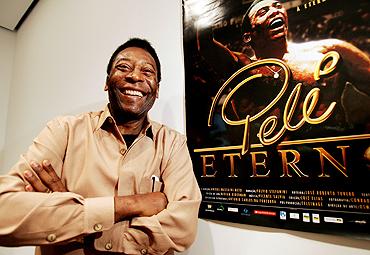 The Brazilian legend was on a three-day visit to India, as a part of New York Cosmos, to play in an exhibition match against local giants Mohun Bagan.
The match per se, and the arrival of Pele in India, was possible due to the efforts of Dhiren Dey, then the Assistant General Secretary at Mohun Bagan.
After his repeated efforts bore no fruit mainly because of Cosmos asking a high appearance fee, Dey's move to directly contact the player paid rich dividends.
Pele disappointed the 80,000 capacity crowd
Last updated on: October 23, 2010 15:54 IST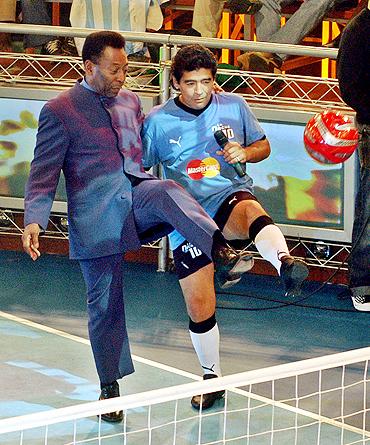 September 23 was the day.
It had rained heavily and there were doubts if the match would take place at all on a soggy Eden Gardens pitch.
But it did happen, with a 80,000 capacity crowd witnessing it.
Pele took to the field, created the first goal for Cosmos and then hit the cross bar.
However, he couldn't score.
It was Pele's final match for NY Cosmos
Last updated on: October 23, 2010 15:54 IST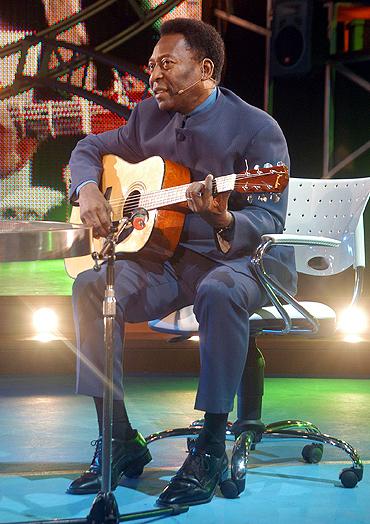 PK Banerjee, the Mohun Bagan coach, had deployed Goutam Sarkar as Pele's marker and he did a fabulous job, something for which he was complimented by the Brazilian legend later.
"You, No.14, did not allow me to move," Pele is believed to have complimented Sarkar at the dinner organized after the game.
And then there was Shivaji Banerjee, the Bagan goalie who denied the legend on one occasion.
The match, which finished 2-2, was Pele's final match for the New York club.
Calcuttans had witnessed a memorable event
Last updated on: October 23, 2010 15:54 IST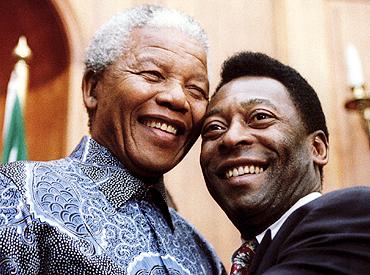 It turned out to be the penultimate one in his professional career. He played in just one more match, his testimonial, between Cosmos and Santos the only two clubs he had played for in his career -- on October 1.
But Calcuttans had seen something that would be in their memory forever. They had been among the fortunate few to see the legendary Brazilian play one last time.