'The Federation and army played a big role in my success'
Last updated on: October 19, 2010 09:56 IST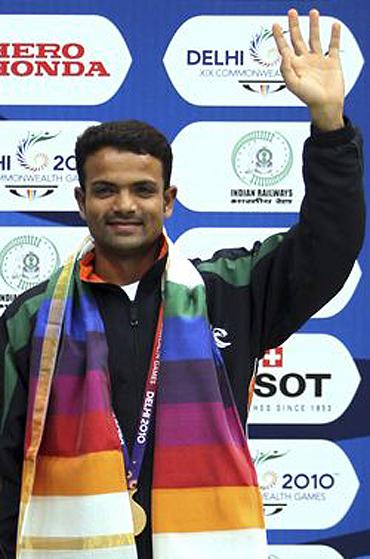 The Indian Army's sole role over the years is guarding the country. Now it has undertaken another task -- producing Olympic champions. It aims to achieve this though its new talent-generating programme -- 'Mission Olympics'. Harish Kotian reveals the details.
The Indian Army's sole role over the years is guarding the country. Now it has added responsibility -- producing Olympic champions.
And one major sport where it is already making its presence felt strongly is shooting.
Indian shooters enjoyed a golden run at the 2010 Commonwealth Games in Delhi, with as many as seven gold medals coming from the sport.
Nine shooters from the army participated in the Delhi Games and they ended up with nine medals, including two silver.
In fact, the army sportspersons' success was not just limited to shooting. The defence guys also excelled in wrestling, archery and weightlifting.
Vijay Kumar was the army's star athlete, winning three gold medals and a silver. He emerged triumphant in the 25 metres Rapid Fire Pistol event after combining with fellow-soldier Gurpreet Singh to claim gold in the same event of the pairs category and 25m centre fire pistol pairs.
Vijay was quick to point out that had it not been for the army, he would never have been the world class shooter he is today.
"Basically, I am employed with the Indian army. They are taking care of my armoury and have also been training me; plus, I also have a personal coach. The federation, my family and the army have played a big role in my gold medal. The shooting ranges that we have got for practice are world class," the shooter told rediff.com.
Gurpreet also won the gold in the Pairs 10m Air Pistol event with Omkar Singh.
'The Army and SAI have given me everything I could have asked for'
Last updated on: October 19, 2010 09:56 IST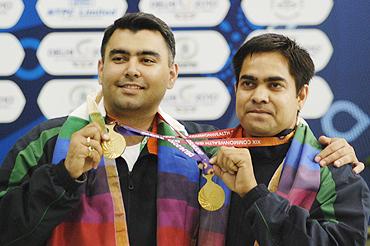 Imran Khan also proved his time spent at the army academy in Mhow, Madhya Pradesh, turned him into a world-class shooter, having clinched gold in the Pairs 50m Rifle 3 Position with ace shooter Gagan Narang.
Imran wasted no time in giving the Indian army due credit for his gold medal.
"I want to dedicate my gold medal to the army and SAI, because for the last two years they have given me everything I could ask for," he said.
- The Commonwealth Games: India's hits and misses
He revealed how, since joining the army in 2000, life changed for the better.
"I joined the army in 2000. The moment I joined I was called up to the Army Institute in Mhow, where my life took a new turn. Before that I could never think of taking up shooting, because I didn't have the money to buy the equipment needed," he added.
The ace marksman revealed how he nearly gave up shooting due to lack of funding, before the army provided him a lifeline.
"I used to shoot with a very old pistol in Bareilly, in Uttar Pradesh. That time I didn't have the required facilities and coaching, so my career didn't get the required boost. But after joining the army, I got everything from them, including practice facilities, new weapons, and money. So that changed my life and career completely.
"I had joined the army basically for a living, but then I saw they were encouraging sports, so I took up shooting and after that things happened instantly. I underwent nine months of training in the army before I took up sports. We had good coaches who helped us a lot and we also worked hard so we started improving rapidly," Imran added.
'Through Mission Olympics we provide training with best facilities'
Last updated on: October 19, 2010 09:56 IST
Lieutenant General Ramesh Halgali revealed that the Indian army invested heavily in the shooters and the results are showing.
"I think the performance of the army shooting team has been exceptionally good. It is because of the unstinted training and support that we have provided our shooters. We have the Mission Olympics program, and at Mhow we have the Army Marksman Unit. All our shooters are given upgraded equipments, good facilities and motivation. I think it is a matter of pride for the Indian army that each year our shooters perform at national and international levels and their performances have been exceptionally outstanding," Halgali said.
- Coutts and Narang 'Queen and King of the Games'
Halgali, who is also the director general of military training, also delved on the Indian army's sport-specific programme called the Mission Olympics.
"Mission Olympics is an event that was started a few years ago. It is run by the Indian army where in we choose the youngest of our soldiers. We catch them young. We pick them from various places and bring them to these five nodes that we have in the army. In each node we train them with state of the art equipment. We continuously give them facilities and promote them and the results are before you," he said.
"We start with age group of 14 years and train them till their 20. So it is six years of hard practice that we give the youngsters. The Mission Olympics wing has brought outstanding results for our country," Halgali added.
'We are looking to produce Olympic champions'
Last updated on: October 19, 2010 09:56 IST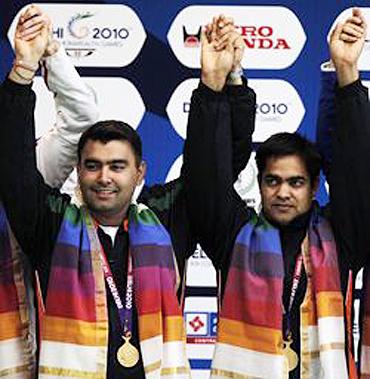 Captain Srinivas Rao, who is the officer-in-charge for the Mission Olympics, also gave out more details on the program.
"It is a very important as far as the Indian army is concerned because we are looking to produce Olympic champions.
"We provide training in every kind of sport and we have some of the best coaches from India and abroad. The shooters train at the shooting ranges in Mhow, while sportsmen from the field of athletics, wrestling, boxing, weightlifting, diving and archery receive training at the Army Sports Institute in Pune."
He further pointed out that Mission Olympics started in 2001, but it became fully functional only in 2005, and since then a lot of athletes have come and improved.
The Army Sports Institute website also throws light on what exactly is the programme about and how it is looking to produce future champions.
'Army Sports Institute hopes to be best sports training centre in India'
Last updated on: October 19, 2010 09:56 IST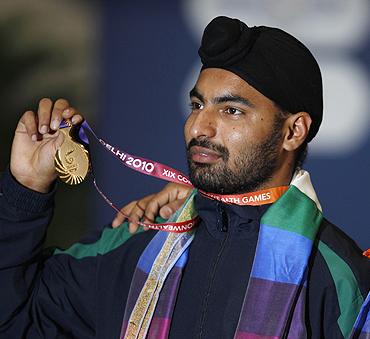 "India appears to have all the advantages required for sporting excellence -- a billion strong population, varied genetic make-up and an aptitude to excel. In spite of this, India's showing at the Olympics has been rather dismal. The Chief of Army Staff conceived the Mission Olympics Program to correct this anomaly and decided to tap the vast and varied talent pool, physical fitness, dedication and discipline of the Army. A panel of experts identified eleven sports on which to focus and excel.
"The Army Sports Institute is a unique, multi-disciplinary Sports Institute. It provides world class training infrastructure, internationally renowned foreign and Indian coaches, the best equipment and excellent boarding and lodging facilities rounded off by comprehensive Sports Sciences back up. The Army Sports Institute endeavors to be the best sports training facility in the country and is the destination of choice for a sportsman with the ability and dedication to win an Olympic Medal," says the website (www.armysports.info).
The army's contribution is bound to reap rewards at next Olympics
Last updated on: October 19, 2010 09:56 IST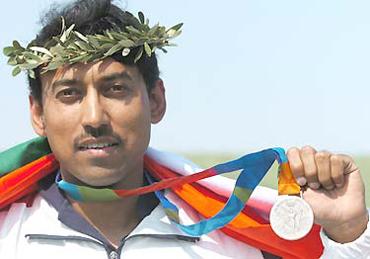 Rajyavardhan Singh Rathore showed that the army is capable of producing Olympic champions with his silver medal at Athens in 2004. And one is sure that in the next Games, in London in 2012, and in the ones after that, the army's contribution will bear fruit.
A look at the Indian army's medal winners at the 2010 Commonwealth Games:
Archery (2 silver, 1 bronze)
Sports cadet Jignesh Chittiboma 1 silver
Havaldar Chinna Raju Srither 1 silver
Subhedar Tarundeep Roy 1 bronze
Athletics (2 bronze)
Havaldar Kashinath Naik - 1 bronze
Havaldar Harminder Singh - 1 bronze
Boxing (No medals)
Shooting (7 gold, 2 silver)
Subhedar Vijay Kumar 3 golds, 1 silver
Subhedar Imran Khan 1 gold
Havaldar Gurpreet Singh 2 golds, 1 silver
Subhedar Vijay Kumar 1 gold
Weightlifting (1 gold, 1 silver, 1 bronze)
Havaldar Ravi Kumar 1 gold
Havaldar Sukhen Dey 1 silver
Havaldar VS Rao 1 bronze
Wrestling (2 silver)
Subhedar Manoj Kumar 1 silver
Havaldar Sunil Kumar 1 silver