Saina fights back to claim badminton singles gold
Last updated on: October 14, 2010 20:35 IST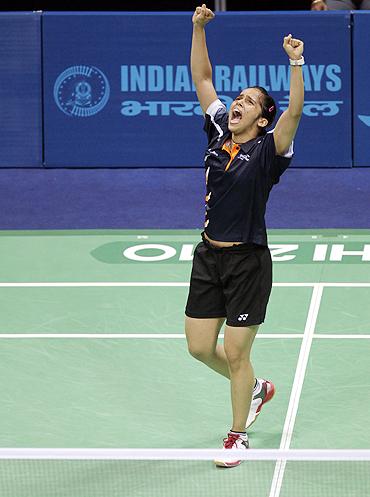 Top seed Saina Nehwal became the first Indian woman shuttler to win a gold medal at a Commonwealth Games after a gruelling three-game victory over Malaysia's Mew Choo Wong in the badminton singles, in New Delhi, on Thursday.
The Indian ace bounced back from a game down to beat Wong 19-21, 23-21, 21-13 in a nerve-wracking 70-minute title clash at the Siri Fort Sports Complex.
Aparna Popat won a silver medal in the women's singles event at the Kuala Lumpur Commonwealth Games in 1998, while Prakash Padukone was the first Indian to win a men's singles gold, at the 1978 Edmonton edition.
Syed Modi was the last shuttler to win a gold in the quadrennial event, at the 1982 Brisbane Games.
Jwala-Ashwini stun top seed Singaporeans
Last updated on: October 14, 2010 20:35 IST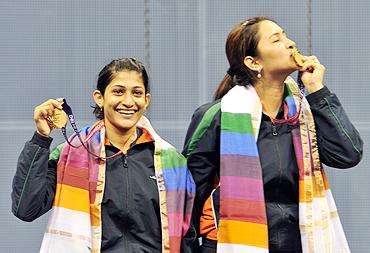 Second seeds Jwala Gutta and Ashwini Ponappa stunned top seeds Sari Shanti Mulia and Yao Lei of Singapore 21-16, 21-19 in the final to become the first women's pair from India to win a Commonwealth Games gold.
Malaysia won the men's singles gold after world No 1 Lee Chong Wei beat England's Rajiv Ouseph a 21-10, 21-8 in the final.
Australia trounce India for hockey gold
Last updated on: October 14, 2010 20:35 IST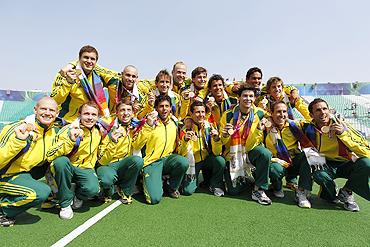 Australia won their fourth consecutive Commonwealth Games gold after thrashing India in the hockey final.
Jason Wilson (19th, 28th minute) and Luke Doerner (34th, 52nd) scored a double each, while Chris Ciriello (21st), Simon Orchard (60th) and Glenn Turner (70th) found the net once for the Aussies.
With this triumph, Australia have now won all the four editions of the hockey competition at the Games since the sport made its debut in Kuala Lumpur 1998.
PM watches India's flop show from the stands
Last updated on: October 14, 2010 20:35 IST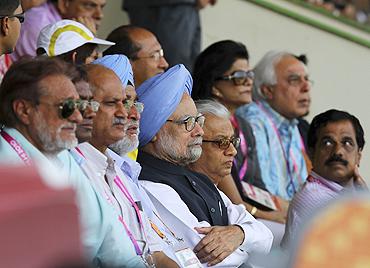 The sweltering conditions had no effect on Australia's performance as they proved too strong for the eight-time Olympic champions, completely outplaying the hosts with their power hockey in front a packed house, that included the likes of Prime Minister Manmohan Singh and UPA chairperson Sonia Gandhi, who sat at the VIP enclosure.
Barring the crushing defeat, India can take heart from the fact that in Delhi they managed to win their maiden Commonwealth Games medal -- a silver -- and better the fifth place finish in Melbourne 2006.
Apart from the PM and Sonia Gandhi, Home Minister P Chidambaram, HRD Minister KapiL Sibal, sports Minister M S Gill and Delhi Chief Minister Sheila Dikshit were in the VIP gallery to cheer the Indian players.
Olympians Zafar Iqbal, Balbir Singh, Ajitpal Singh and Ashok Kumar were also present at the match.
At the post-match press conference the disappointment in the Indian camp was palpable. "We played well in
the first 20 minutes, isn't it," said Dhananjay Mahadik, while dejected captain Rajpal Singh chose to say "Yeh unka din tha (it was their day)".
Bronze for New Zealand hockey team
Last updated on: October 14, 2010 20:35 IST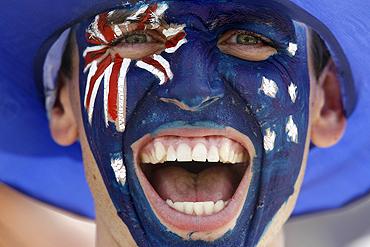 New Zealand returned to the podium after eight years with an 8-6 tie-breaker win over England to claim the bronze medal in the men's hockey competition.
The Kiwis, silver medallists in the 2002 Games, squandered a 3-1 advantage as England clawed their way back into the game.
The match had to be decided by the tie-breaker as the teams were locked 3-3 at the end of full-time and extra-time.
NZ pip England in tie-breaker
Last updated on: October 14, 2010 20:35 IST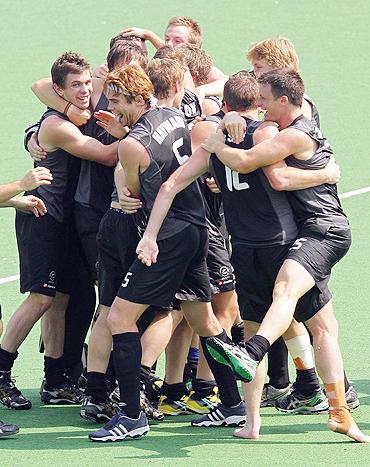 Dean Couzins and Hayden Shaw (penalty corners) and a field goal by Nick Haig featured on the Kiwi score-sheet while for England, the Mantell brothers, Richard and Simon, and James Tindall scored.
In the tie-breaker, the Kiwis got their five strokes on target through Couzins, Phil Burrows, Hayden Shaw, Andrew Hayward and Shea McAleese.
England converted only three of their four attempts, with Richard Smith, Richard Mantell and Ashley Jackson being on target.
Adam Dixon of England, taking the fourth stroke, essayed a weak push that goalkeeper Kylie Pontifex blocked.
Lee Wei Chong takes men's badminton gold
Last updated on: October 14, 2010 20:35 IST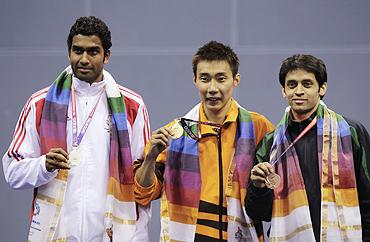 Malaysia's Lee Wei Chong beat England's Rajiv Ouseph to claim the men's singles badminton gold.
defended his title, spanking Ouseph 21-10, 21-8 in 30 minutes.
World No 1 Koo Kien Keat and Tan Boon Heong then outsmarted the English pair of Robertson and Clark Anthony 21-19, 21-14 in 37 minutes.
John Kelai wins Marathon gold
Last updated on: October 14, 2010 20:35 IST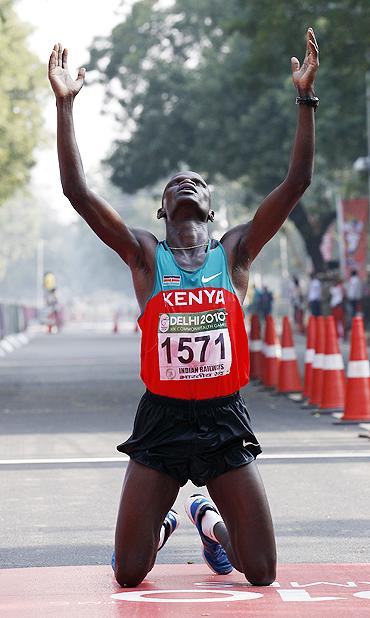 Former Mumbai Marathon champion John Kelai won the men's marathon, finishing ahead of Australia's Michael Shelley.
Kelai broke away from the pack midway through the race and crossed the line after two hours 14 minutes and 35 seconds.
Australia's Michael Shelly bagged the silver in 2:15:18s, while another Kenyan Amos Tirop Matui pocketed the bronze in 2:15:58s.
"I feel great. I am so humbled to win here. It is an honour," Kelai said.
"I didn't know I could be the winner. I knew it was going to be tough."
Kosgei makes double marathon delight for Kenya
Last updated on: October 14, 2010 20:35 IST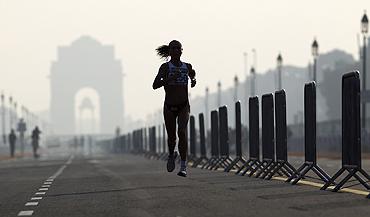 Irene Jerotich Kosgei made it a double treat for Kenya, winning the women's marathon.
Both athletes withstood Delhi's morning heat, racing through deserted and heavily secured streets to claim their medals.
The marathon races, which started at 6 am local time, drew few spectators despite a public holiday being declared in Delhi.
Aussie gynmast wins third gold
Last updated on: October 14, 2010 20:35 IST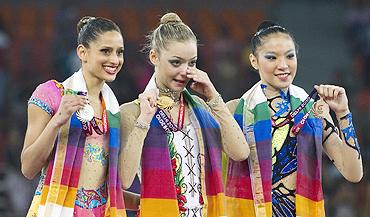 Australian rhythmic gymnast Naazmi Johnston won her third gold at the Games, winning the ball final on Wednesday.
Johnston, who also took silver in the rope and ribbon, scored 25.100 to beat Malaysian Elaine Koon (24.500) and Cypriot Chrystalleni Trikomiti (24.35).
The 21-year-old Sydney gymnast also won gold in the team's event and all-around on the first two days of the rhythmic program.
England bag netball gold
Last updated on: October 14, 2010 20:35 IST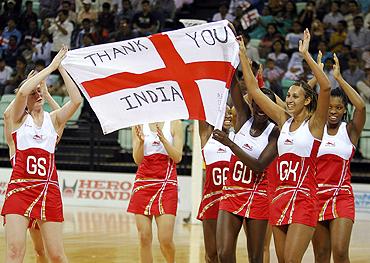 New Zealand beat Australia 66-64 in sudden death overtime to win the netball gold medal after the two sides had been locked together 58-58 after extra-time.
Earlier, England cruised past Jamaica 71-47 to win the bronze medal.
Victory over Jamaica was some consolation for England, who saw their gold medal hopes ended by Australia, courtesy of a 51-45 defeat in Tuesday's semi-final.