Krishna Poonia creates history with gold
Last updated on: October 11, 2010 23:45 IST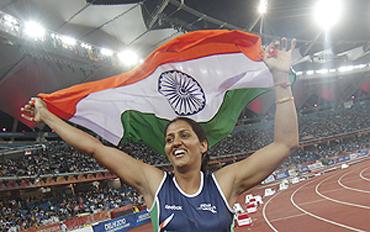 Krishna Poonia led an unprecedented sweep of all the medals in the women's discus throw on Monday.
The Railways athlete from Rajasthan led a historic Indian 1-2-3 by hurling the disc to 61.51 metres and became the country's first woman in 52 years to win the gold on a day the Games was rocked by its first doping scandal, woman's 100m champion gold medallist Osayemi Oludamola of Nigeria returning a positive test for a banned stimulant.
Poonia is the second Indian athlete after Milkha Singh (1958, Cardiff) to garner a gold in track and field. Her triumph enabled the country equal its previous-best gold medal haul in the Games' history.
India had won 30 gold at Manchester eight years ago.
Harwant Kaur (60.66m) and National record holder Seema Antil (58.46m) bagged silver and bronze respectively.
"I dedicate this gold medal to all the Indians who have waited for so long. I am so happy that I have done the country proud by winning a gold in the Commonwealth Games after 52 years. It is amazing. It cannot be better than this. With this clean sweep of the medals I think we have wiped out everything bad that had happened before the Games," Poonia said after the historic moment.
Indian boxers knocked out in semis
Last updated on: October 11, 2010 23:45 IST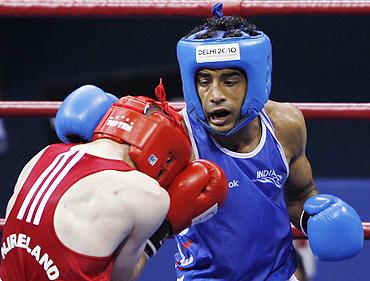 Commonwealth Championships gold medallist Amandeep Singh (49kg), Asian silver-medallist Jai Bhagwan (60kg) and nine-time national champion Dilbag Singh (69kg) had to be content with bronze medals after losing in the semi-finals.
Amandeep lost 0-5 to Olympic bronze medallist and European champion Paddy Barnes of Northern Ireland, Jai went down 5-10 to European Championships silver winner Thomas Stalker of England [ Images ] and Dilbag was beaten 4-5 in a thrilling contest by Northern Ireland's Patrick Gallagher.
Next up was Jai, and despite putting up a good fight, the Indian was undone by a couple of warnings that seemed too harsh. The Asian silver-medallist was warned twice for hitting Stalker below the waistline in an ill-tempered bout.
Dilbag was the last Indian to step inside the arena in the first session and he gave it his all against Gallagher only to lose the bout by a whisker.
The entertaining contest had both the boxers employing unorthodox tactics and the crowd was kept amused with a bit of 'wrestling' as well.
Shooters misfire, settle for bronze
Last updated on: October 11, 2010 23:45 IST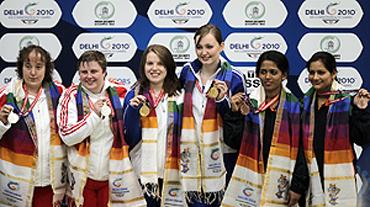 It turned out to be a disappointing day for Indian shooters with the pair of Tejaswini Sawant and Meena Kumari missing out on a gold by just one point to settle for a bronze.
Even in the skeet event, the Indian pair of Mairaj Ahmad Khan and Allan Daniel Peoples finished a disappointing final as the country had to be content with only one bronze medal in shooting at Karni Singh Shooting Range.
Tejaswini was done in by pressure as she along with her team-mate Meena Kumari faltered by just one point in the women's 50 metres rifle prone.
The Scottish duo of Jen McIntosh and Kay Copland clinched the gold in the shoot-off against the English pair of Michelle Smith and Sharon Lee after they were locked on 1169.
World champion Tejaswini shot 583, two less than Meena Kumari as the duo shot 1168, in a heartbreaking miss by one point.
"I got over conscious because I didn't want to commit any mistake. Even my coach told me that I was getting over conscious," Tejaswini said.
We both are good shooters with very high personal scores. Even our normal performance would have fetched a gold," a dejected Tejaswini said.

Indian eves beat Canada 3-0, finish fifth
Last updated on: October 11, 2010 23:45 IST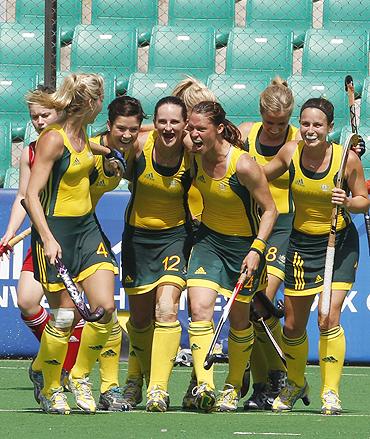 India dished out a commanding performance to defeat Canada 3-0 in a classification match in the women's hockey event at the Commonwealth Games in New Delhi on Monday. But they only managed to clinch the 5th spot in the competition.
Ritu Rani (18th minute) scored in the opening half while Thokchom Chanchan Devi (66th) and Saba Anjum (70th) sounded the board after the breather to ensure a comfortable win for the home team and draw the curtains on an otherwise disappointing campaign.
Meanhile,  Australia and New Zealand scrambled to unimpressive victories to set up a gold medal clash in the women's hockey competition.
Australia, thanks to a 38th minute penalty corner conversion by skipper Madonna Blythe, overcame England 1-0 while the Kiwis beat South Africa also by the same score-line after Clarissa Eshuis swept home a penalty corner deflection in the 53rd minute.
Tearful Pearson happy with hurdles gold
Last updated on: October 11, 2010 23:45 IST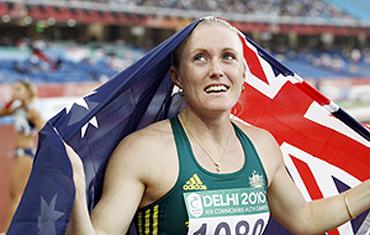 Australia's Sally Pearson overcame last week's 100 metres heartbreak to win the hurdles event over the same distance on Monday, collapsing on the track in tears after her golden run.
Pearson was distraught last Thursday when she was disqualified for a false start three hours after crossing the line first in the women's sprint.
There was to be no false start for her on Monday, though, and she quickly took the lead before finishing in 12.67 seconds with a huge beam on her face.
"It was a very difficult week. I tried my best to keep training and keep my focus. Today I was probably the last one out of the blocks," the 24-year-old said after her win.
Indian divers Hari Prasad, Hrutika in finals
Last updated on: October 11, 2010 23:45 IST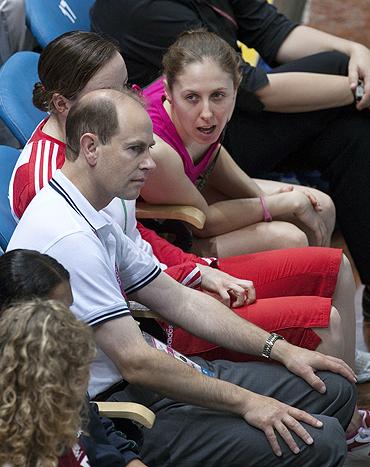 Indian divers Hari Prasad Thimmarayappa and Hrutika Parvatayya Shriram qualified for the finals of their respective events at the SP Mukherjee Swimming Stadium.
Hari Prasad finished 12th with 260.70 points in the men's 3m Springboard preliminary round but still made it to the final.
Hrutika also finished 12th with 176.75 points in the women's 10m platform event but also made it to the final.
However, Manesh Kumar Mohan and Deepti Panwar missed the bus for the finals of 3m Springboard Men and 10m platform Women respectively.
Indian rugby team out of medal contention
Last updated on: October 11, 2010 23:45 IST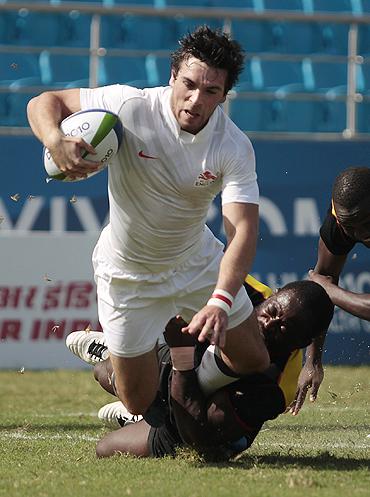 The capacity crowd at the Delhi University ground vociferously cheered for the home team but that did not prove sufficient as Indian ruggers lost all three encounters of the day against their higher ranked opponents to bow out of medal contention in the Commonwealth Games Rugby Sevens event.
The Men in Blue failed to put up a decent fight against reigning World Cup Sevens champion Wales, world ranked sixth South Africa and next season's World Series qualifier Tongo in the Group-B engagements.
India will now play against Canada on Tuesday in the 'Bowl' Division for the 9th-16 position finish after being relegated to the bottom of the group.
In the opening game, India lost to 2009 World Cup champions Wales 7-56. Amit Lochab scored India's only try four minutes into the first half while Wales crossed four times to lead 28-7 at the break.
Wales' Tom Prydie and Lee Williams each bagged a brace of tries and Gareth Davies scored a try and kicked six conversions in the first round Pool-B clash.