Harminder wins 20km walk bronze
Last updated on: October 10, 2010 00:49 IST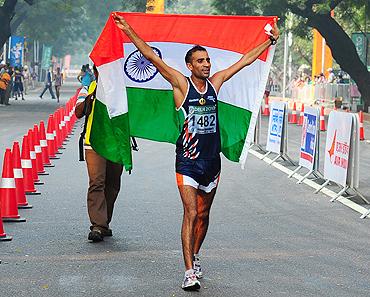 India's Harminder Singh clinched a surprise bronze medal in the men's 20km walk, clocking a personal best of 1:23:28 second on Saturday.
The 26-year-old Harminder finished a minute and 10 seconds behind silver medallist Luke Adams of Australia.
Another Australian, Jared Tallent, clinched the gold medal, after trailing Adams till the last two kilometers, in a new Games record of 1:22:18s.
However, there was disappointment for India in the women's 20km walk in which Rani Yadav was the best-placed at sixth after clocking 1:42:54s.
Another, Indian Sandhya Jolly, finished eighth with a timing of 1:51:44s, while Deepmala Devi failed to even finish and ended up bottom of the heap.
Wrestlers come good for India
Last updated on: October 10, 2010 00:49 IST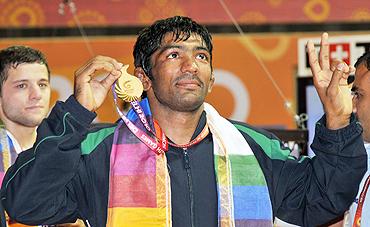 Narsingh Yadav and Yogeshwar Dutt won their wrestling bouts to help swell India's gold medal tally.
Yogeshwar Dutt outclassed Canada's James Mancini to win the gold medal in the men's freestyle 60kg wrestling event.
Soon after, Yadav thwarted stiff competition from South Africa's Richard Addinall to register a hardfought 4-0 victory in the men's freestyle 74kg wrestling event.
India bt SA 3-1, out of medal contention
Last updated on: October 10, 2010 00:49 IST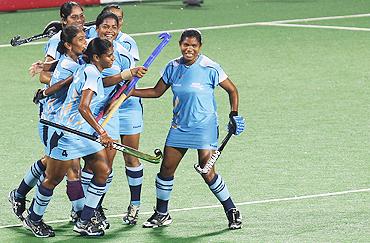 India beat South Africa 3-1 in their final Pool A women's hockey match but it was not enough to guarantee the home team a place in the semi-finals as the reigning silver medalist crashed out on goal difference.
Deepika Thakur (11th, 21st minute) and captain Surinder Kaur (35th) scored for India while Pietie Coetzee (45th) was the lone goal-getter for South Africa.
India will now play the third place holder from Pool B for the fifth-sixth position.
Indian lifter Monika Devi wins bronze in 75kg event
Last updated on: October 10, 2010 00:49 IST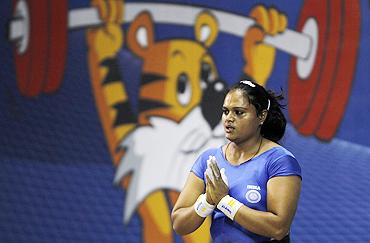 India's Laishram Monika Devi bagged a bronze medal in the women's 75kg weightlifting competition.
The winner of this category, Hadiza Zakari of Nigeria, finished with a combined effort of 239kg (110 in snatch and 129 in clean and jerk), creating a new Commonwealth Games record in all three sections in 75kg.
The silver medal was awarded to Marie-Eve Beauchemin-Nadeau of Canada, who finished with a total effort of 225kg (99 in snatch and 126 in clean and jerk).
Women's TT team clinches silver
Last updated on: October 10, 2010 00:49 IST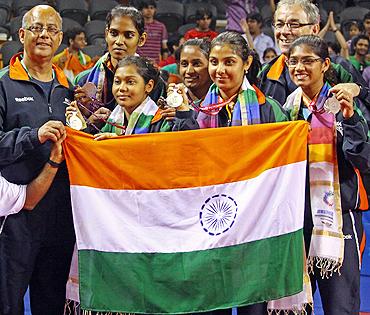 The Indian women's table tennis team couldn't go the distance and had to be satisfied with the silver medal. They were beaten by Singapore, who clinched gold.
Earlier in the day, the Indian men's table tennis team won the bronze medal after beating Nigeria 3-0 at the Yamuna Sports Complex.
Sania misses out on gold
Last updated on: October 10, 2010 00:49 IST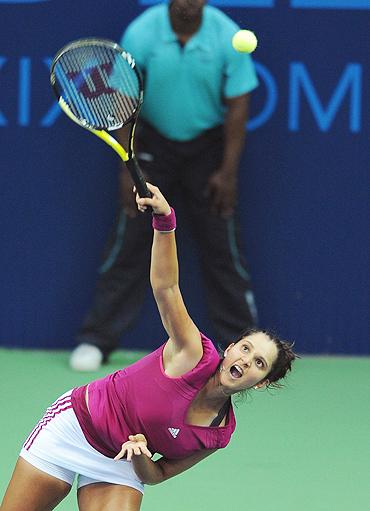 It was a mixed day for the tennis stars on court on Saturday.
Sania Mirza lost to Australian Anastasia Rodionova 6-3, 2-6, 7-6 in the women's tennis final.
Later, Leander Paes and Mahesh Bhupathi won bronze in the men's doubles tennis event beating compatriots Rohan Bopanna and Somdev Devvarman 6-3, 7-6 (7-4).
India hockey stars down Scotland
Last updated on: October 10, 2010 00:49 IST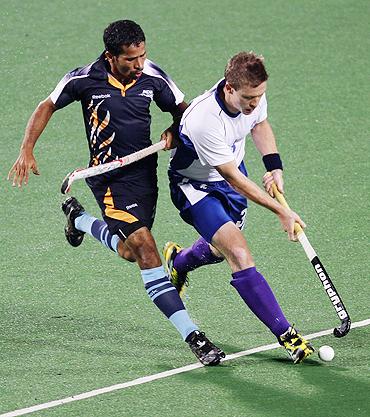 Young striker Dharamvir Singh scored a double as India defeated a lowly Scotland 4-0 in a Pool A match to stay in the hunt for a semi-final spot in the men's hockey event
Dharamvir (12th & 61st) and Sarwanjit Singh (7th) scored field goals while Dhanjay Mahadik (51st) converted a penalty corner for India.
The victory over Scotland has the set tone for Sunday's high-voltage Indo-Pak match, which for the home team would be a virtual quarter-final as they need an outright win to progress to the semi-finals.