Ashish Kumar makes history
Last updated on: October 7, 2010 23:37 IST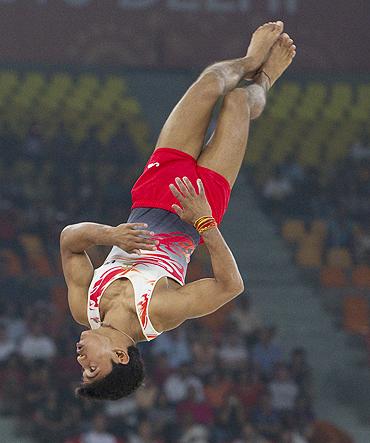 Ashish Kumar made history on Thursday when he clinched the bronze medal in the men's floor exercise to earn India its first Commonwealth gymnastics medal.
It is the country's first medal in gymnastics since the beginning of the Commonwealth Games in 1930.
The 19-year old lad scored an impressive 14.475 points to snatch the bronze medal.
I am very happy to win the bronze medal. It was a new experience for me," said the gymnast.
Australia's Thomas Pichler bagged won the gold with 14.675 points and England's Reiss Beckford took the silver, scoring 14.625.
Indian archers announce arrival on world stage
Last updated on: October 7, 2010 23:37 IST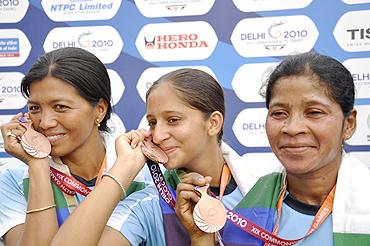 The men's trio of Jignas Chittibomma, Chinna Raju and Ritul Chatterjee claimed their first ever medal at any international level when they lost to the Englishmen 229-231 to settle for the silver in the archery event.
The women's trio of Bheigyabati Chanu, Jhano Hansdah and Gagandeep Kaur beat Malaysia 223-219 in the bronze play-off as the Archery Association of India (AAI) secretary general Paresh Nath Mukherjee said the medals had come as a "bonus".
"We never expected to get anything in compound section, as our main strength has been in the recurve section. But our effort and the archers' hardwork has paid fruits," Mukherjee said.
Shooters continue to find target
Last updated on: October 7, 2010 23:37 IST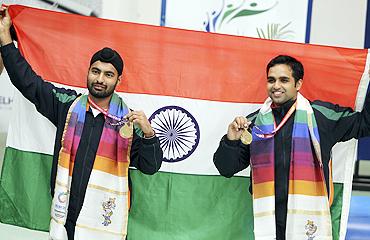 The Indian shooters started off in fine fashion on Thursday, with Vijay Kumar and Gurpreet Singh winning a gold medal in the Pairs 25 metres Rapid Fire pistol event.
The duo created a new Games record with a final total of 1162, as they each shot 293 in the second stage, at the Dr Karni Singh Shooting Range.
Malaysia's Hafiz Adzha and Hasli Izwan took the silver with a tally of 1144, with Australia settling for bronze, scoring 1125.
However, there was a bit of disappointment for India as crowd favourite Tejaswini Sawant failed to qualify for the finals in the women's 50 metres Rifle-3 Positions, after finished ninth with a total score of 568.
Indian shuttlers in semis
Last updated on: October 7, 2010 23:37 IST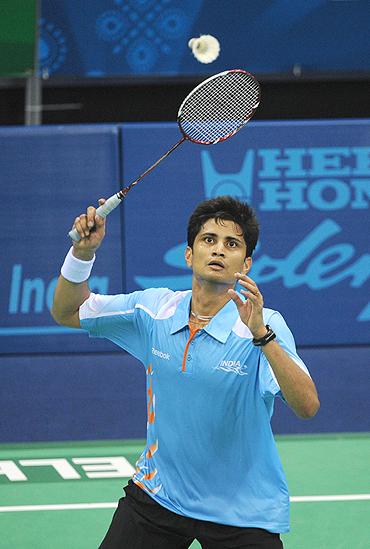 Ace Indian shuttlers Chetan Anand and Saina Nehwal notched contrasting victories as India thrashed Canada 3-0 to set up a semi-final clash with England in the mixed badminton team event at the Commonwealth Games on Thursday.
The mixed doubles pair of Jwala Gutta and V Diju just took 19 minutes to make short work of N G Toby and Gao Grace, winning 21-8, 21-12 in the first match of the day to give India a 1-0 lead.
Sudhir gives India weightlifting bronze
Last updated on: October 7, 2010 23:37 IST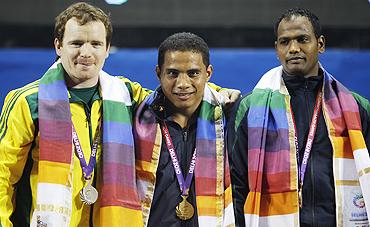 India's CPR Sudhir Kumar won a bronze medal in men's 77 kg weightlifting event after one of the frontrunners Nigeria's Felix Ekpo failed to lift weights in any of his three attempts in clean and jerk event, handing the Indian the third spot and second position to Australian Ben Turner.
It was only Yukio Peter of Nauru who deservingly bagged the gold medal finishing far ahead of his opponents.
The Indian lifter was far from impressive as he could only lift 131 kgs in his first attempt in snatch event and failed in his next two attempts to lift 136 kgs. Meanwhile, Yukio Peter, the best-credentialed lifter in any division, performed as per expectations, creating a new Commonwealth Games record in snatch event by lifting 148 kgs to break Satheesha Rai of India's previously held record.
However, it came as a surprise when Felix Ekpo also finished the snatch event with a successful lift of 148 kgs to be placed at No. 1 position along with Peter. The next best lifters in the snatch event -- Ben Turner of Australia (133 kgs), Cypruss Alexandros Amanatides (132 kgs) and India's Sudhir Kumar (131 kgs) -- finished far below the top two lifters.
Geeta wins first ever gold in women's wrestling
Last updated on: October 7, 2010 23:37 IST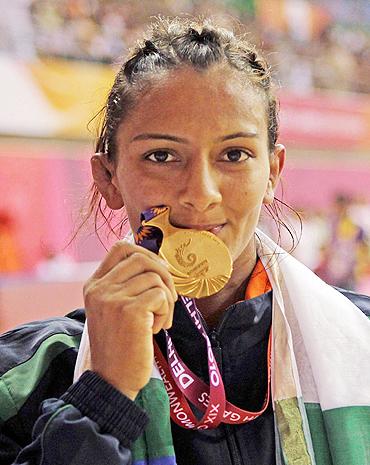 Haryana's Geeta won India's first ever gold medal in women's wrestling, in the 55kg freestyle category.
The hosts also got a silver in the 48 kg freestyle category after Nirmala Devi lost her title round bout to Canadian opponent Carol Huynh.
Suman Kundu got India a third medal from the competition winning the bronze medal play-off in the 63 kg category.
Paes-Sania crash out
Last updated on: October 7, 2010 23:37 IST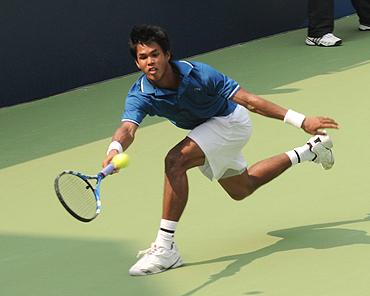 Leander Paes and Sania Mirza were beaten in the mixed doubles.
Paes had earlier in the day entered the semi-finals of the men's doubles, partnering Mahesh Bhupathi, while Sania had made the semi-finals of the women's singles.
Sania joined Somdev Devvarman in the semi-final round.
She easily won her women's singles quarter-final, disposing off Australia's Marina Erakovic 6-2, 6-3.
Somdev had earlier beaten sixth seed Rubin Statham of New Zealand 6-3, 6-4 to make the grade in the men's singles.
Australia whip India in men's hockey
Last updated on: October 7, 2010 23:37 IST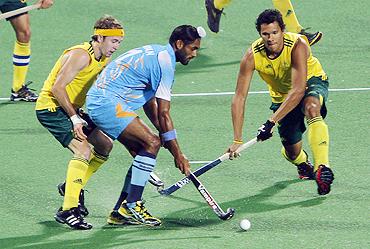 Australia proved too good for India in the men's hockey tournament. The World champions thrashed the hosts 5-2 in a Pool A match and took a step closer to the semi-finals.
Desmond Abbott (2nd minute), Trent Mitton (6th), Eddie Ockenden (48th), Liam de Young (54th) and Glenn Turner (58th) scored for Australia while Dharamvir Singh (12th) and Sandeep Singh were India's goal-getters.
Clarke, Oludamola Games fastest
Last updated on: October 7, 2010 23:37 IST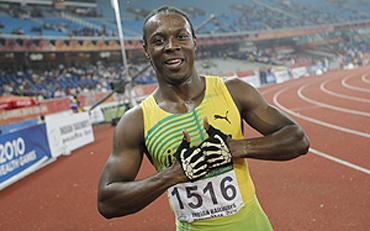 Jamaican Leron Clarke became the fastest man of the Commonwealth Games while the corresponding women's gold medal was clinched by Osayomi Oludamola of
Nigeria after winner Sally Pearson of Australia was disqualified after the race.
Subsequent to Pearson's disqualification the silver medallist was elevated to the gold standard while the third and fourth place finishers in the race - Natasha Mayers (St Vincent and Grenadines) and England's Catherine Endacott were awarded the silver and bronze respectively.
In the men's event, Jamaica's Clarke won gold with a timing of 10.12 seconds.
Englishman Mark Lewis Francis, who won a silver in the European Championships, was second with a timing of 10.2s while Trinidad and Tobago's Aaron Armstrong was third with 10.24s.