Scotland hold fancied India
Last updated on: October 4, 2010 23:20 IST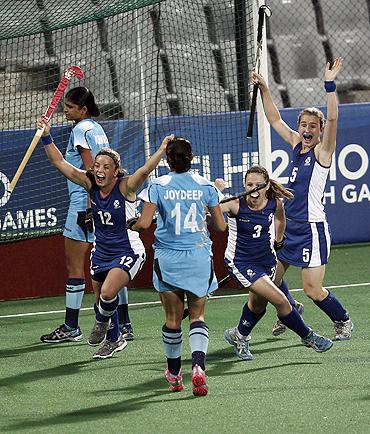 Reigning silver medalists India were held to a 1-1 draw by lowly Scotland in their opening Pool A match of the women's hockey event at the Commonwealth Games, at the Major Dhyan Chand National Stadium on Monday.
India rallied to eke out a draw after Jasjeet Kaur Handa levelled the scores in the 45th minute.
Scotland took the lead in the third minute from a Holly Gram field goal.
In the other women's hockey matches of the day, South Africa trounced Trinidad and Tobago 12-0 in Pool A, New Zealand defeated Wales 5-1 in Pool B, while Malaysia beat Canada 3-2 in another Pool B tie.
Good start for Indian archers
Last updated on: October 4, 2010 23:20 IST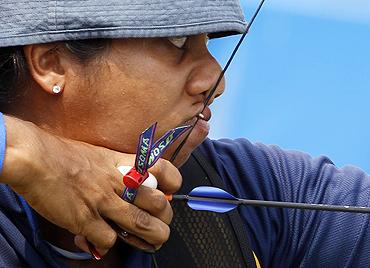 Indian archers kicked off their campaign in style with the men's and women's recurve teams finishing on top.
Rahul Banerjee and Jayanta Talukdar topped the men's section, while Deepika Kumari and Dola Banerjee [ Images ] dominated the women's field.
Former World champion Deepika scored 609 and that was enough to claim top position in the women's individual recurve section, with compatriot Dola Banerjee finishing second best.
England's Larry Godfrey, Simon Terry and Naomi Folkard finishing second in the team event.
India disappoint in artistic gymnastics
Last updated on: October 4, 2010 23:20 IST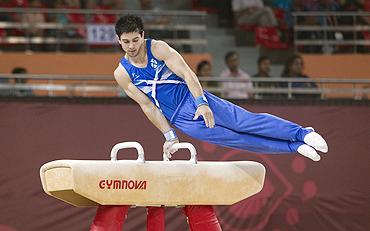 An injury-hit Indian team finished sixth, even as Australia swelled their medal tally with a gold in the men's artistic gymnastics at Indira Gandhi Stadium.
Australia won the gold with 259.050 points in the men's artistic team subdivision two competition on the Vault, while
England, who led into the final rotation, finished with the silver medal with 256.750 points. Canada bagged the bronze with 248.500 points.
The triumphant Australian coach Vladmir Vatkin said their English opponents faltered in the pommel horse to give them an advantage.
"It worked until the pommel horse. We fell four times, then our friends from England did the same. Gymnastics does not have much strategy. You perform your best, pull together as a team and enjoy every minute," Vatkin said.
Palmer powers Aus to gold
Last updated on: October 4, 2010 23:20 IST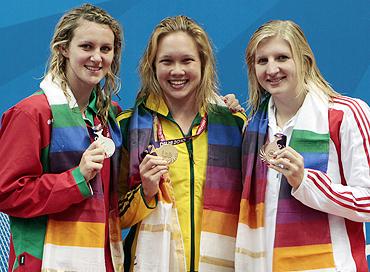 Australia's Kylie Palmer won the first swimming gold, powering her way to victory in the women's 200m freestyle and setting Australia on course to retain top spot in the pool.
The 20-year-old struck out after the second turn and touched home in 1:57.50 but the battle for the other podium positions went down to the wire, with Wales' Jaz Carlin and England's Rebecca Adlington winning silver and bronze.
Coutts rewrites Games record
Last updated on: October 4, 2010 23:20 IST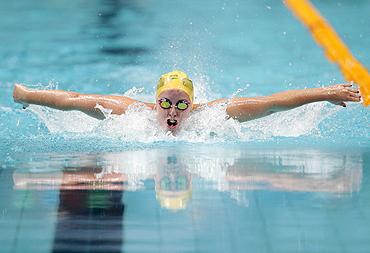 Australia's Alicia Coutts made a splash with a win in the women's 200m individual medley.
The 23-year-old Queenslander produced a Games record of 2:09.70.
Elimy Seebohm completed the race one second behind compatriot Coutts to take home the silver, while Canada's Julia Wilkinson clinched the bronze.
Nigerian lifter clinches first gold of the 2010 Games
Last updated on: October 4, 2010 23:20 IST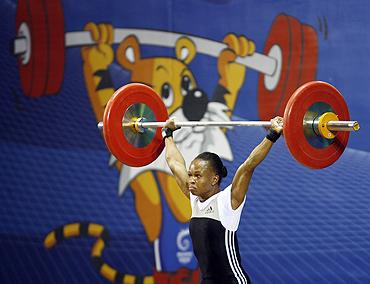 Augustina Nkem Nwaokolo of Nigeria won the first gold medal of the 2010 Commonwealth Games, with a record mark in the women's weightlifting event.
She created a Commonwealth Games record with a total of 175 kgs as she lifted 77 kgs in the Snatch and followed that up with another successful lift of 98 in the Clean and Jerk in the 48-kg women's weighlifting category.
India's Soniya Chanu took the silver with a total of 167 kgs, while Sandhya Rani Devi took the bronze.
Le Clos strikes gold for SA
Last updated on: October 4, 2010 23:20 IST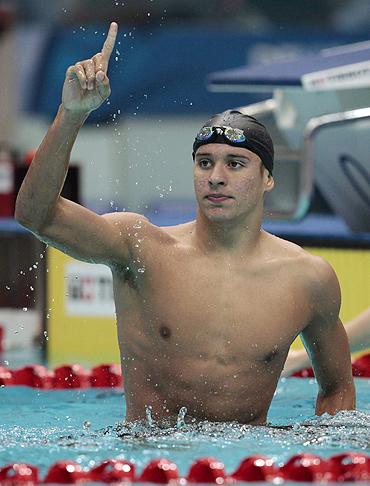 South Africa's Chad Le Clos struck gold in the 200m butterfly race.
Le Clos, 18, overtook England's Michael Rock, who led at 100m and 150m, to stretch away for his country's first gold in the pool in a new Games record of 1:56.48.
Rock, 23, held on for silver while Canada's Stefan Hirniak got bronze.
Sukhen gives India second silver of the day
Last updated on: October 4, 2010 23:20 IST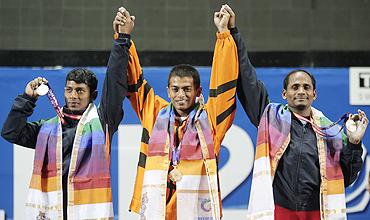 Hamizan Amirul Ibrahim won the men's 56-kg weightlifting event to claim Malaysia's first gold medal at the Commonwealth Games.
Ibrahim set a new Games mark of 116 kg in the snatch to claim first place with a total of 251 kg, after he lifted 140 in the clean and jerk.
India's Sukhen Dev, 21, provided a stiff challenge but had to eventually settle for silver. The young lifter totalled 252, with a best of 112 in the snatch and 140 in the clean and jerk to claim India's second silver medal of the day.
Srinivasa Rao completed the double in the event for India, claiming bronze with a total of 248 in the two categories.