Tendulkar tops list
Last updated on: March 9, 2010 18:08 IST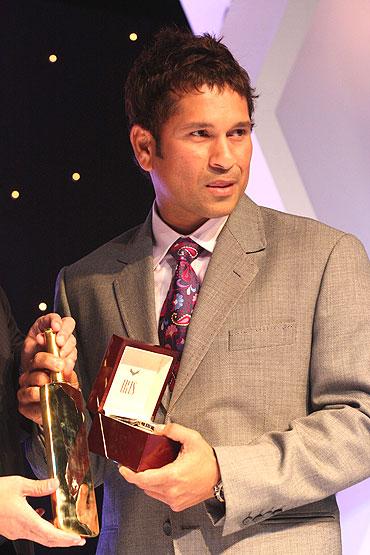 Several Indian sportspersons were felicitated at an awards function, organized by Sports Illustrated magazine, in Mumbai on Monday.
Among them were Sachin Tendulkar and Sania Mirza.
The magazine also felicitated the 50 most influential people in Indian sport, a list topped by Tendulkar himself.
IPL Chairman Lalit Modi was in second spot and liquor baron Dr Vijay Mallya third.
ICC president-in-waiting Sharad Pawar, India cricket captain M S Dhoni, Board of Control for Cricket in India president Shashank Manohar and Sports Minister M S Gill also found a place in the list.
Along with the award, Tendulkar was presented a miniature gold bat in recognition of his double century, the first double ton scored in One Day International (ODI) cricket.
'I'm looking forward to the Commonwealth Games'
Last updated on: March 9, 2010 18:08 IST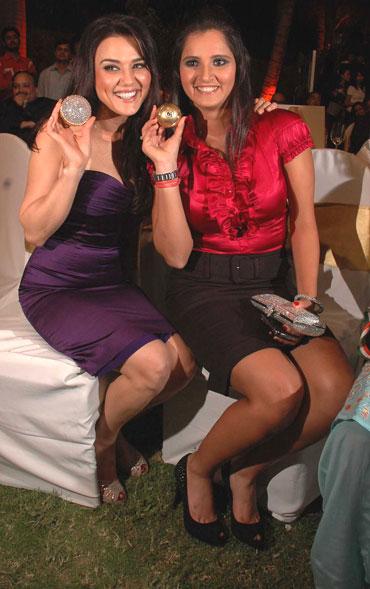 Mirza, who is recovering from a wrist injury, was presented a miniature gold tennis ball.
Receiving the award, she said she is preparing for the Commonwealth Games, scheduled in October, in New Delhi.
"Of course, to me Commonwealth and Asian Games is the most important thing at the moment. Firstly, it is happening in India, and secondly, it is my third Asian Games and first Commonwealth, so I'm really looking forward to it," said Sania.
Sania had sustained the injury after losing to Spain's Anabel Medina Garrigues in the first round of the 2010 Barclays Dubai Tennis Championship.
However, she was happy with her contribution in the Fed Cup Group II matches, in Kuala Lumpur last month, which helped India qualify for the Asia/Oceania Zone Group-I stage.
'I'm still getting great feedback'
Last updated on: March 9, 2010 18:08 IST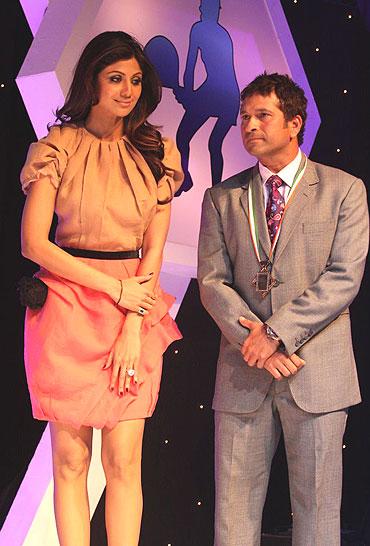 Tendulkar said he is still receiving congratulatory messages on becoming the first batsman in the history of One-day cricket to score a double hundred, and enjoying the good time.
"It has taken many years for a batsman to get a double hundred (in ODIs). I am still getting great feedback. It feels terrific," he said.
As a special gesture, Kings XI Punjab co-owner Preity Zinta, the most powerful woman at 23 on the list, was presented a diamond studded cricket ball.
Bindra gets honour
Last updated on: March 9, 2010 18:08 IST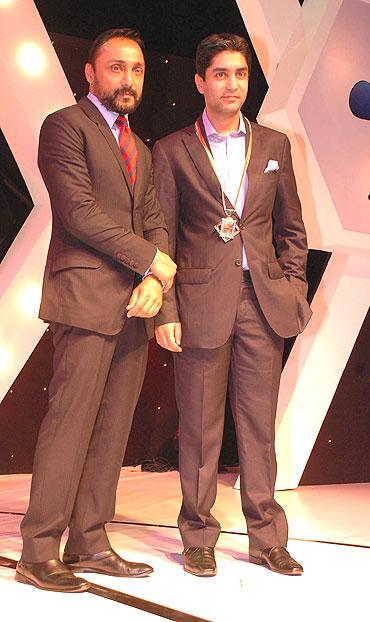 Olympic gold medallist shooter Abhinav Bindra was also felicitated.
Asked how he kept himself composed after becoming the first Indian to win an individual gold medal in the Olympics, Bindra said, "I have waited for it for the last 16 years."