England's poor World Cup campaign comes to an end
Last updated on: June 28, 2010 15:36 IST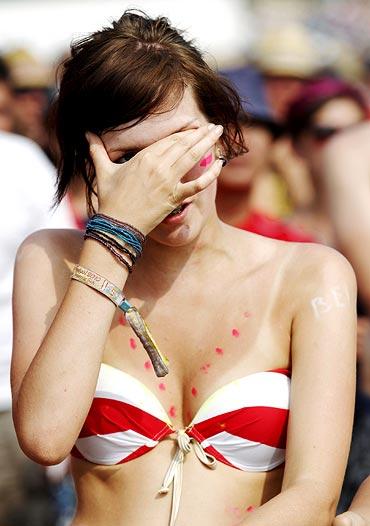 England can argue for as long as they like about the goal that never was, but ultimately it was the team that never turned up that brought their poor World Cup campaign to an end against old rivals Germany.
The biggest talking point of a dramatic, stunning second round match at the Free State Stadium which Germany won 4-1 came after 38 minutes when a Frank Lampard shot bounced off the crossbar and a metre over the goalline without the Uruguayan referee Jorge Larrionda or his compatriot, linesman Pablo Fandino, seeing it clearly enough to award the goal.
The incident came at a crucial moment and would have put England level at 2-2.
However, the distinct feeling was that even if the goal had been allowed it would not have made much difference to the outcome or stopped Germany advancing to the last eight.
Photographs: Reuters
Germany's young guns played a significant role
Last updated on: June 28, 2010 15:36 IST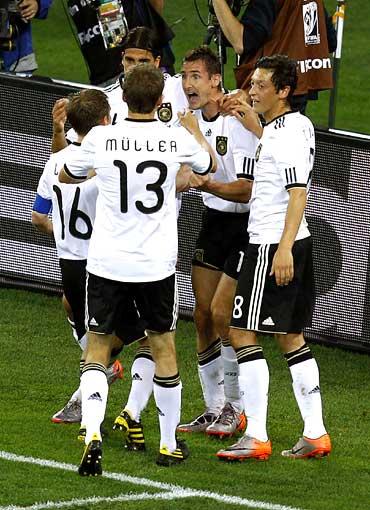 For Germany were slicker, sharper and simply too good for England whose long, long wait to win the World Cup must go on for at least another four years, and on this evidence, a lot longer than that.
Joachim Loew's young German team held their lead and their nerve after their lucky escape and went on to dominate a match finding holes in a tired, slow and disorganised England defence and midfield almost at will.
Germany's team, a classical blend of youth and experience outclassed England from almost the first moment to the last and played with the zip and pace that saw them beat Australia 4-0 in their opening match in Group D before their subsequent loss to Serbia and renaissance against Ghana.
A year ago Germany crushed England 4-0 in the European Under-21 final in Sweden and four of that team: goalkeeper Manuel Neuer, defender Jerome Boateng and midfielders Mesut Ozil and Sami Khedira were all in Sunday's starting line-up.
With an average age of around 25, compared to an ageing England side on the wrong side of 29, Germany's young guns all played a significant role in another overwhelming victory with Ozil their outstanding player.
Mueller proved too quick and strong for England
Last updated on: June 28, 2010 15:36 IST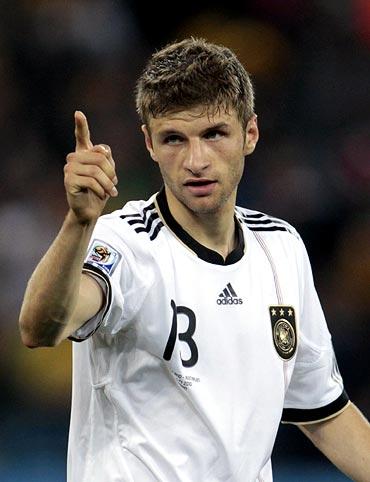 Thomas Mueller, still only 20, did not play in the Under-21 finals last year, but Sunday, he, together with Ozil, was too quick, powerful and strong for England with his two late goals just reward for his hard work.
But it was not just their youngsters that shone.
Miroslav Klose, 32, and making his 99th appearance for Germany, scored his 50th international goal and his 12th overall in the World Cup to put him level with Pele and only three behind Ronaldo's all time record of 15.
He combined superbly with Mueller and a rejuvenated Lukas Podolski in attack, and Germany's quick breaks, cleaner technique on the ball, and undoubted self-confidence were too much for England to handle.
Former Germany goalkeeper Oliver Kahn said this week that Neuer, who is 24, could well be on his way to being the world's No.1 in a few years and he commanded his back line with calm authority.
Rooney was ineffective in attack
Last updated on: June 28, 2010 15:36 IST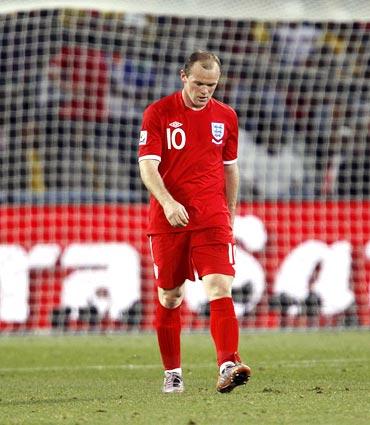 England, who suffered their heaviest ever defeat in the finals and conceded four goals for the first time since 1954, showed very little improvement on their three lacklustre group games.
Centre backs John Terry and Matthew Upson were outpaced and outrun at the back and although England battled hard, they had no cutting edge with Wayne Rooney ineffective in attack.
A truly woeful high wide and ludicrous attempt at goal from Rooney after 25 minutes summed up his World Cup and they can have no complaints about the defeat, even though they have legitimate claims about the goal that could have been.
Source:
© Copyright 2020 Reuters Limited. All rights reserved. Republication or redistribution of Reuters content, including by framing or similar means, is expressly prohibited without the prior written consent of Reuters. Reuters shall not be liable for any errors or delays in the content, or for any actions taken in reliance thereon.