Africa's first finals will resonate to familiar Latin rhythms
Last updated on: June 8, 2010 08:49 IST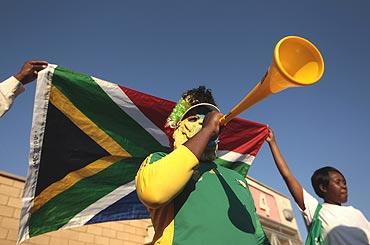 The setting is unique but a succession of pre-tournament injuries and the lessons of past World Cups outside Europe suggest the football at Africa's first finals will resonate to familiar Latin rhythms.
A month-long tournament that starts at Soccer City in Soweto on Friday when South Africa play Mexico will look and feel different from any other World Cup - and sound different too thanks to the cacophonous din of vuvuzela trumpets.
The sensation is that anything is possible in such a vast country with such differences in altitude and temperature but every World Cup outside Europe to date has been won by a South American team and with medical bulletins providing bad news for European and African challengers the pattern may continue.
Brazil in the toughest of the eight groups
Last updated on: June 8, 2010 08:49 IST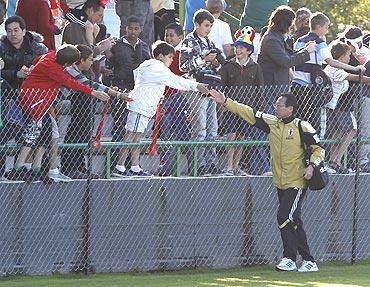 Michael Ballack, Rio Ferdinand, Michael Essien and David Beckham are among those definitely missing out and many other influential figures are struggling for fitness.
At least all the big teams are here.
The world's most watched sporting event will showcase a familiar set of rivalries, with every one of the 32 nations, including six from Africa, having played at least one World Cup and all seven former champions present.
Brazil, who won the last of their five World Cups in South Korea and Japan in 2002, are in the toughest of the eight groups with Ivory Coast, Portugal and unknown quantity North Korea.
Coach Dunga has created a team based around a defensive midfield and lightning counter-attacks, backed by an outstanding goalkeeper in Julio Cesar and with Kaka's brilliance the one link with the great attacking sides of the past.
Their main priority will be to win Group G and avoid meeting Group H favourites Spain in the last 16.
Maradona finally finding his magic touch as a coach
Last updated on: June 8, 2010 08:49 IST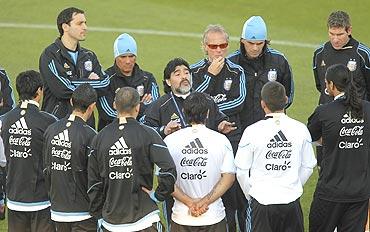 A Spain side with perhaps the most technically adept midfield in the world, are likely to be Brazil's main rivals, along with an Argentina team that will seek inspiration from football greats past and present.
Spain laid to rest their reputation for underachievement with an outstanding victory at Euro 2008 and with Xavi, Andres Iniesta, Xabi Alonso and Cesc Fabregas among the midfield talent they can call on, behind strikers Fernando Torres and David Villa, they must be genuine candidates this time.
Under the outspoken Maradona, Argentina had quite a scare in qualifying but recent performances in friendlies suggest the man who led his country to World Cup glory in 1986 with such skill and force of personality may be finding his touch as a coach.
If he can work out how to make the equally gifted Lionel Messi the influential figure he is when playing club football for Barcelona Maradona will really have cracked it.
Spain untouched by injuries
Last updated on: June 8, 2010 08:49 IST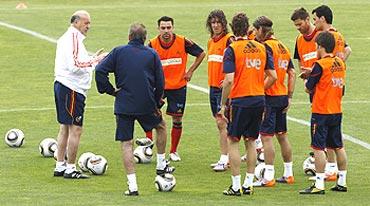 Spain, Brazil and Argentina have been untouched so far by the injuries that have dogged their rivals, including Ivory Coast who are clinging to the hope that Didier Drogba may still be able to play some part despite fracturing an elbow.
England, champions in 1966, have been deprived of captain Ferdinand, plus Beckham, and Italian coach Fabio Capello must hope Wayne Rooney stays fit and at his irresistible best.
England's first match in Group C is against the United States, who should not be discounted after reaching the Confederations Cup final last year, beating Spain on the way.
Three-times winners Germany are in a worse state, missing five players including captain Ballack, while the Dutch, twice beaten finalists, have a concern over Arjen Robben who picked up a hamstring injury at the weekend.
Italy will miss the services of Andrea Pirlo
Last updated on: June 8, 2010 08:49 IST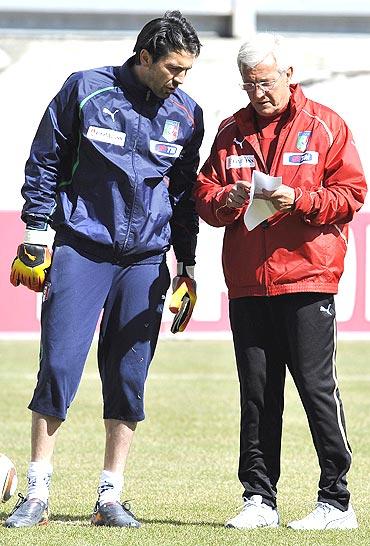 Italy, who won the World Cup for the fourth time four years ago at the end of a hugely enjoyable tournament in Germany, will also be weakened by the absence of stylish midfielder Andrea Pirlo, at least for the start of the tournament.
With an ageing team few people expect them to repeat the feats of 2006 and France, the team they beat in the final four years ago and champions on home soil in 1998, are outsiders too.
The Ivorians had been considered the pick of the African sides but if Drogba misses out, progressing from that nasty looking Group G looks a mighty task given the presence of Cristiano Ronaldo's dangerous, if inconsistent, Portugal.
Ghana have been hit just as badly by the loss of Michael Essien while Nigeria are without John Obi Mikel as they prepare for a battle in Group B with Argentina, Greece and a South Korea team who seem to have rekindled the spirit of their semi-final run on home soil eight years ago.
Bafana Bafana hold African hopes
Last updated on: June 8, 2010 08:49 IST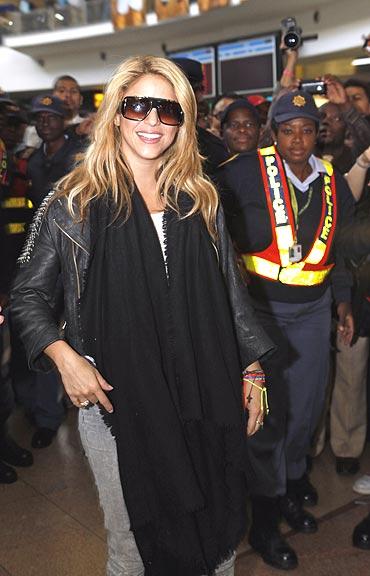 With Algeria rated outsiders, it may fall to Cameroon and South Africa to carry African hopes beyond the first phase.
Cameroon, in Group E with the Netherlands, Denmark and Japan, have one of the world's leading strikers in Samuel Eto'o, while South Africa are finally generating momentum.
Unbeaten in 12 matches since Carlos Alberto Parreira returned as coach last November, Bafana Bafana finished their preparations for Group A, and games against Mexico, Uruguay and France, with a 1-0 win over Denmark.
"We fear nobody," said Parreira, who will pin his faith on the striking talents of Katlego Mphela after leaving out Benni McCarthy. "Now we can start to dream about achieving something."
As a nation, South Africa can already be proud of setting the World Cup scene beautifully and uniquely. If they achieve something on the field as well, we really are in for a party.
Source:
© Copyright 2020 Reuters Limited. All rights reserved. Republication or redistribution of Reuters content, including by framing or similar means, is expressly prohibited without the prior written consent of Reuters. Reuters shall not be liable for any errors or delays in the content, or for any actions taken in reliance thereon.