The Dutch love to kiss and tell
Last updated on: July 8, 2010 11:36 IST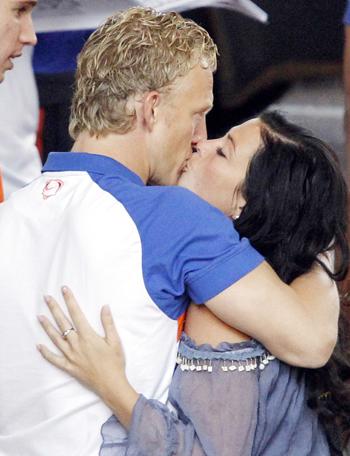 World Cup finalists Netherlands have found a new home at the Sunnyside Park Hotel in Johannesburg, a Dutch FA spokeswoman told Reuters on Wednesday.
The modest Dutch only had reservations until July 5 at the Sandton Hilton hotel in Johannesburg because they probably did not expect to make it to the last week of the tournament.
An extra day off meant the Dutch players could celebrate with their partners before getting back to prepare for the final.
In this picture Dirk Kuyt is seen kissing his wife Gertrude.
Stekelenburg deserved it
Last updated on: July 8, 2010 11:36 IST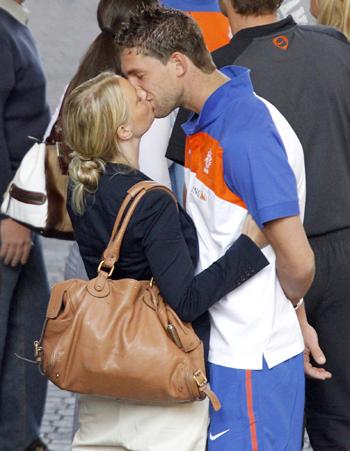 If Kuyt was spending quality time with his wife, goalie Maarten Stekelenburg wasn't far behind.
Having let in just four goals in the tournament thus far, the Ajax goalie probably deserved the treatment he is seen getting in the picture.
Meanwhile, World soccer's governing body FIFA accommodates all teams the night before and after a match but they must make their own arrangements for the other nights.
After beating Brazil in the quarter-finals, Netherlands extended their stay for a week but their accommodation is fully booked ahead of the final at Soccer City on Sunday.
For De Zeeuw, it was the best medicine
Last updated on: July 8, 2010 11:36 IST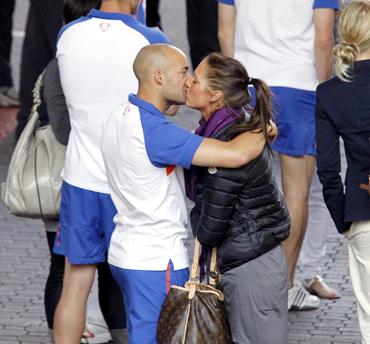 Demy de Zeeuw was also seen kissing his partner.
The Ajax winger, who also starred for AZ Alkmaar in the previous season, had got a rap in the  face in the match against Uruguay.
This was the best medicine he could have expected. 
Boschker too basked in the glory
Last updated on: July 8, 2010 11:36 IST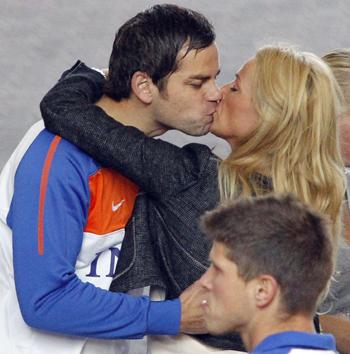 Sander Boschker may not have featured in a single match in the Netherlands' spectacular campaign thus far.
But he wasn't to left behind in this puckering contest.
He had every right to enjoy his team's success.
There was no alternative
Last updated on: July 8, 2010 11:36 IST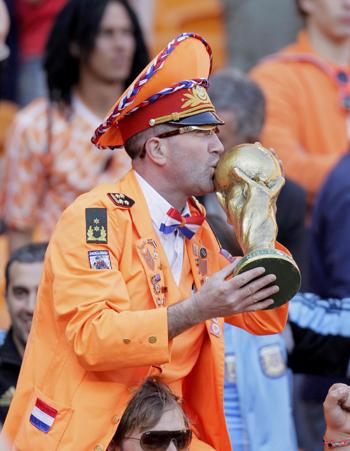 The Dutch beat Uruguay 3-2 on Tuesday at Green Point Stadium in Cape Town to reach their first World Cup final since 1978.
The Oranje will face Spain, a 1-0 winner over Germany in Durban, in Sunday's final.