Germany, America share seven gold medals apiece
Last updated on: February 23, 2010 14:18 IST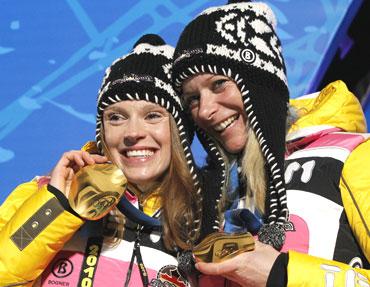 Germany surged to the top of the Winter Games medals table alongside the United States on Monday while host nation Canada struggled with a demoralising ice hockey defeat and diminishing medal hopes.
Germany won gold in the women's cross country team sprint to go level with the high-flying Americans at seven gold medals apiece in 10 days of Olympic competition.
Norway, a far smaller population that punches above its weight at Winter Games, moved to outright third by winning a sixth gold in the men's cross country team sprint.
Both the Americans and Germans are on track to garner more gold before the Games end on February 28.
Ice-hockey quaterfinal most watched in Canadian history
Last updated on: February 23, 2010 14:18 IST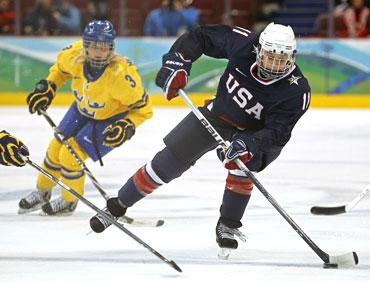 The US women's ice hockey team earned a place in Thursday's gold medal final by crushing Sweden 9-1 in a ruthless revenge for their 2006 Turin defeat to the Swedes in the semi-finals. They will face either Canada or Finland.
The American men are through to the quarter-finals after their 5-3 defeat of hockey-crazed Canada on Sunday, in a game that was the most watched sports programme in Canadian history with 10.6 million viewers.
For Canadians, anything other than winning gold in the ice hockey would be deemed a national failure.
They remain in the competition but the loss to the US has left them facing a qualifying playoff with Germany for the daunting prospect of meeting Russia in the quarter-finals.
Canadian head coach Mike Babcock tried to offer some reassuring words for his compatriots.
"We've just chosen a longer route to get to where we want to go," he said.
Canada draw blank in Alpine skiing
Last updated on: February 23, 2010 14:18 IST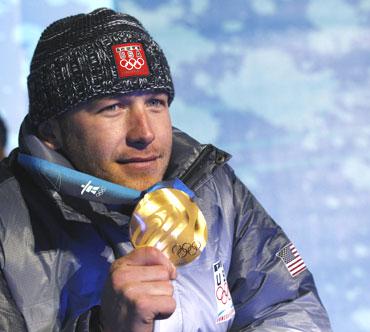 The host-nation have failed to win a medal in the Alpine skiing events at Whistler mountain, where the Americans have won eight, and their dream of claiming gold in the ice hockey was in danger of melting fast.
The inquisition has begun and the Canadian Olympic Committee (COC), which spent millions of taxpayers' dollars preparing their athletes for the Games, has come under attack.
"It's painful to do the autopsy while the patient is alive and kicking," COC chief executive Chris Rudge said.
Austria leap to ski jumping gold
Last updated on: February 23, 2010 14:18 IST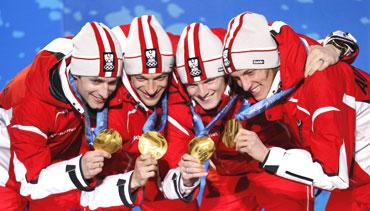 Austria, another traditional winter sports powerhouse struggling in Vancouver, made a brighter start to the final week of competition when Wolfgang Loitzl, Andreas Kofler, Thomas Morgenstern and Gregor Schlierenzauer joined up to win gold in the ski jumping.
A late surge by Claudia Nystad enabled Germany to win the women's cross country final ahead of Sweden, who had led at every exchange.
Germany looked to be on course to win the men's final too when they led at the final changeover but Norway's Petter Northug unleashed a powerful burst on the last lap to snatch his first gold of the Games after failing to win in three individual events.
Canada send US packing
Last updated on: February 23, 2010 14:18 IST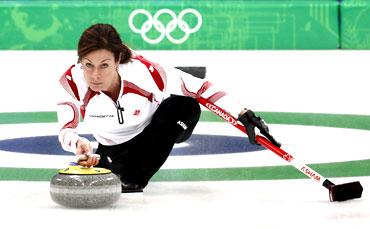 Canada did serve up some revenge to its neighbours to the south on Monday, by eliminating the US men's curling team following a 7-2 victory.
"We felt we owed them one after the hockey last night," Canadian curler John Morris said.
China went down 7-4 to the Russians, who are near the bottom of the pack, one day after handing Canada their first loss of the Olympics. China's record stands at 5-3.
China came into the competition as strong contenders, having beaten Sweden last year to take the world title, a first for an Asian curling team.
Despite the loss, China is still in third place and in the running to make the semifinals, which start later this week.