Athletes will get to taste the best of Indian food
Last updated on: August 27, 2010 13:40 IST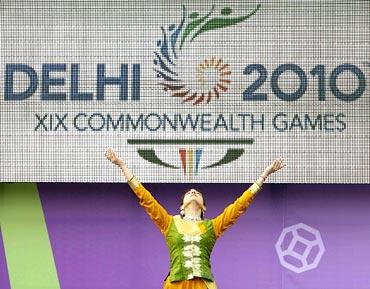 Forget the corruption claims and unfinished stadiums, Sheela Bhatt finds out that New Delhi is all set to feed the 8,000 athletes who will descend for the Commonwealth Games, in true Indian style
No Indian function is complete without a sumptuous spread of food. Fortunately, the controversy-ridden Commonwealth Games Organising Committee will maintain that tradition when guests descend on New Delhi for the October 3-14 sporting extravaganza.
Some 8,000 athletes who are expected to attend the Games will get a taste of the best of Indian kababs, meat, prawns, fish, chicken biryani, ethnic curries, chicken tandoori and 20 other items cooked in the tandoor. And, of course, vegetarian staples like idli, dosa, sambhar, dhoklas, puris and other famous Indian delicacies will also be served in the dining room at the Games village.
It goes without saying that the athletes will also get what their physicians, nutritionists and coaches order for them.
Photograph: Reuters
No worries, the world's No.1 caterer is handling CWG
Last updated on: August 27, 2010 13:40 IST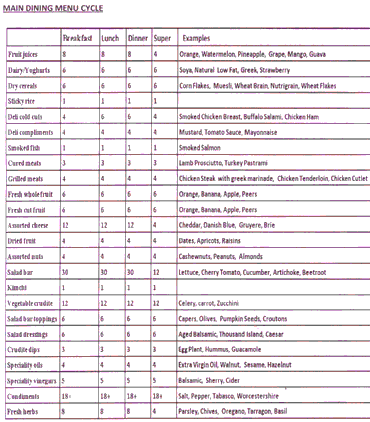 Australia's Delaware North Companies, the world's number one in food service and hospitality, along with its local partner TajSATS, a subsidiary of the Taj group, is catering for the CWG.
Delaware North catered for the Beijing Olympics, some previous Commonwealth Games and at London's new Wembley stadium. They also cater for more than a dozen airlines and airports. They have already set up a giant marquee in the compound of the Games Village under which they have set up state-of-the-art refrigerators, microwaves, mobile kitchens and cooking and serving ranges bought from PKL, the United Kingdom's best-known supplier of kitchen equipment.
The giant kitchen will churn out more than 300 food items, hot and cold, 24x7. In an hour it is expected to dish out up to 2,500 meals, and 36,000 daily during the duration of the Games.
Food will be served at the main dining hall, village bar, casual dining hall (where India's popular street food will be served) and coffee carts. A special area to serve food for the Games officials, and one for drivers and operators of the kitchen have also been created.
The main dining menu has fruit juices, yoghurts, cereals, sticky rice, dry fruit, smoked fish, cured and grilled meats, assorted cheese, salad bar, fresh herbs and all that the athletes need to eat to keep them in competition.
Photograph: http://www.delawarenorth.com.au
Food from six regions under one roof
Last updated on: August 27, 2010 13:40 IST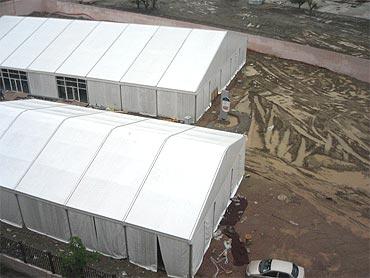 In fact, a fascinating aspect of the kitchen in the Games Village is that under one roof it will serve food from six regions of the Commonwealth. Asian, Asia-Pacific, Mediterranean, African, Caribbean and Oceanic food is being finalised. In short, the menu will have the kind of diversity never before seen at Indian events.
But all of this nearly did not materialise. Some Indian experts came up with the terrifying idea of roping in Indian Railways caterers for the Games as well. Thankfully, the idea was nixed. For some months a discussion was on in the Organising Committee that food of temples, gurudwaras and even the Kumbh Mela could be served, so that India doesn't need caterers from abroad. But, then, dawned the realisation that serving food to the international community of sportspersons is a different ball game from serving prasad to the poor and middle-class masses of India.
The food served at the Games will be accompanied by a food card giving the nutritional information, details of allergy food and other details that athletes need. There will be separate hot and cold food zones in the dining room, and all athletes will get food tailor-made for them. They will have to visit the nutrition kiosk to get the nutritional breakdown. The dining room will also have an in-house nutritionist.
The entire menu will be displayed under separate heads as red meat, seafood, nuts, additives, wheat and gluten, spicy or non-spicy, vegan, fish, vegetables, lactose, halal and eggs.
Photograph: Sheela Bhatt/Rediff.com
Athletes will have to pay for alcohol
Last updated on: August 27, 2010 13:40 IST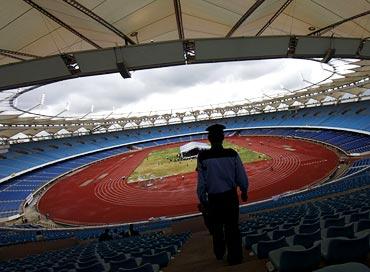 Since the event is in India, the casual dining room will have the feel and decor of a street cafe in India, with seating capacity for 400 people. The participants will have to pay for alcohol though.
The village bar will be located in the international zone of the Games Village. Along with beverages, the bar will provide finger food like nuts, wafers and fries.
Fortunately, despite delays due to late decision-making by the Suresh Kalmadi-led Commonwealth Games OC, catering, transport, policing and other arrangements seem to have got the Games on track. Things are looking better only because the government is spending money unhesitatingly. 
An apt example of this spending spree is evident from how the catering services came to be arranged. Since the Games were allotted to New Delhi, Kalmadi sat on all important decisions.
Photograph: Reuters
Russian cargo aircraft to lift the kitchenware!
Last updated on: August 27, 2010 13:40 IST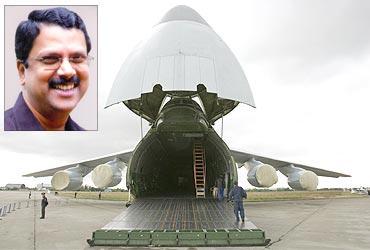 In the winter of 2009, when the Prime Minister's Office took stock, everyone panicked when they realised that catering arrangements had not even been initiated. In November that year the PMO sent bureaucrats to sit in the CWG office. Jiji Thomson, a senior IAS officer, was made special director general of the CWG, in-charge of three crucial areas -- catering, media and transport.
As soon as he joined office, he issued a global tender for catering for the athletes and experts from 53 countries. He had a reasonably good budget of Rs 70 crore. In the first round, Delaware North of Australia got selected. They, in turn, had arrangements with the PKL Group of London, who was supposed to rent the kitchenware and equipment needed for the Games. The contract with Delaware, which was to the tune of Rs 72 crore, took care of the kitchen equipment for PKL also.
But Kalmadi being Kalmadi cancelled the global bidding. Delaware got upset and the PKL group also backed out. Kalmadi asked Thomson's office to issue a fresh tender as late as in April 2010. Any tender process in the Indian government takes four months. Thomson had sleepless nights and enormous worries. Somehow, a decision was taken to retain Delaware North, but the Melbourne-based company showed no interest in rejoining the event.
Thomson visited Australia and got their nod at very favourable terms for the company. But, in the meanwhile, PKL had got other commitments in Singapore and China. They had no spare equipment to rent for the Games. Without PKL support systems Delaware was in no position to prepare 36,000 meals per day.
Thomson went to London to talk to PKL. They said they had diverted equipment to two other mega events but offered to sell India the entire range of kitchenware. It is not clear if PKL was taking advantage of India's situation.
India had no choice but to buy Rs 8.63 crore worth of equipment since it was already mid-2010. But the equipment could not be shipped because it would have taken 40 days to arrive at Mumbai port and another two weeks to reach New Delhi. Nothing would have moved before August and that would have been a recipe for disaster.
So a Russian Antonov cargo aircraft was chartered to lift the kitchenware for the Games!
Because the OC delayed taking a decision for two years, another Rs 18 crore was spent on packaging, insurance, airlifting of equipments and installation!
Photograph: Sheela Bhatt/Rediff.com
'We will provide the best food to athletes!'
Last updated on: August 27, 2010 13:40 IST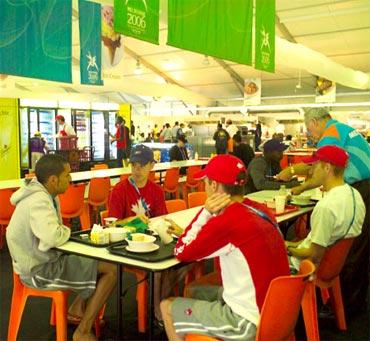 At the end of it all, Thomson's department managed world-class catering services at Rs 93-94 crore. As per a rough estimate, the cost of serving breakfast-lunch-dinner per person, per day, will be around Rs 1,973!
After the Games are over PKL's equipment will be sold and a sum of Rs 5 crore-plus would be recovered. Still, what a loss it will be!
When contacted, Thomson refused to speak on the delays or the hiked budget for the catering services, but displayed super-confidence that the food served will be out of the world.
"We are ready for the Games, absolutely! As far as catering and transport-related arrangement is concerned, our Organising Committee is confident that both these areas are very much under control. As far as catering is concerned, we will provide the best food to the visiting athletes and our own. It will be the best-ever kitchen set up anywhere in India with such exotic varieties of cuisine."
He added, "We will ensure that we do not make any compromise on quality."