Celebs keep coming to the Flushing Meadows
Last updated on: September 8, 2009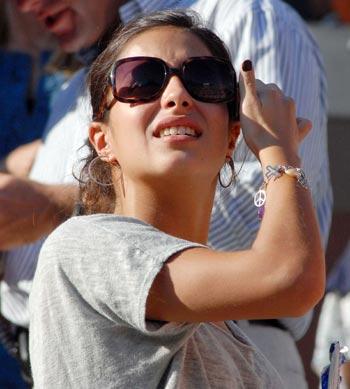 Maria Francisca Perello, girlfriend of Spanish tennis star Rafael Nadal, is seen at US Open VIP gallery in New York.
Xisca, as she better known as, comes from Nadal's home town of Palma, in the island of Majorca in Spain, and has been dating Nadal for the last four years.
The 22-year-old has been described by friends as 'an intelligent girl from a good local family.'
Kidman, Urban relax in New York
Last updated on: September 8, 2009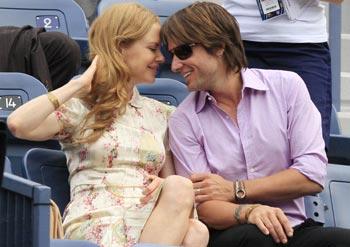 Nicole Kidman and hubby Keith Urban came to watch Roger Federer play Tommy Robredo at the USTA Billie Jean King National Tennis Center on Monday.
The very-much-in-love pair were seen laughing, canoodling in the stands and even kissing.
Prior to showing up at the US Open, the actress and the country singer had been enjoying some relaxing family time at their home in Nashville, Tennessee.
Kim turned up early on
Last updated on: September 8, 2009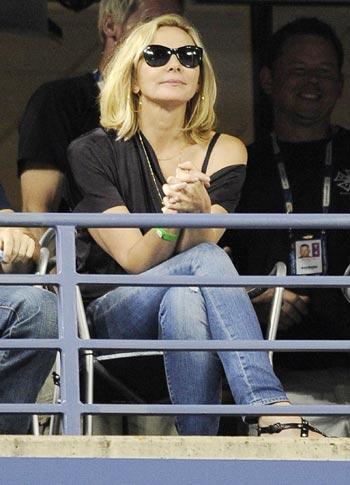 One of the first celebs to turn up at the Flushing Meadows this year was actress Kim Cattrall.
The actress, best known for her role as Samantha Jones in the HBO comedy/romance series Sex and the City, came in first to watch Roger Federer play his opener.
Now Sears towers in New York
Last updated on: September 8, 2009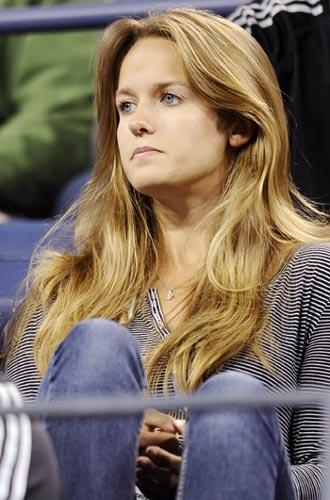 Kim Sears, the girlfriend of Andy Murray of Britain, watches the Scot play Latvian Ernest Gulbis at the US Open.
Sears expectedly accompanies Murray in all his matches.
The actress started dating Murray at the 2005 US Open and their relationship became public a year later.
The 21-year-old's father, Nigel, coached Slovakian tennis star Daniel Hantuchova for some time.
A Constant(ine) presence
Last updated on: September 8, 2009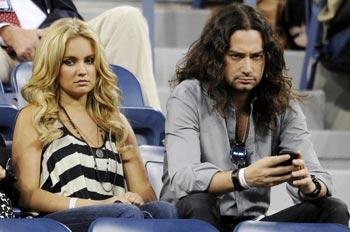 Actor Constantine Maroulis sits in the crowd with an unidentified woman as he watches Roger Federer play at the US Open.
Maroulis, the lead vocalist of the hard rock band Pray for the Soul of Betty, was a finalist on the fourth season of the reality television series American Idol.
He finished sixth eventually.
He also received a nomination for the Tony Award for Best Performance by a Leading Actor in a Musical for his role in Rock of Ages.
Momma's girl
Last updated on: September 8, 2009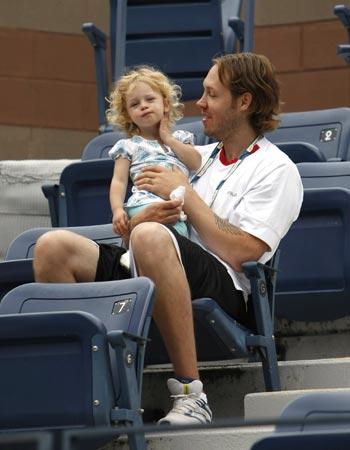 Kim Clijster's daughter, Jada Ellie, is held by her father Brian Lynch at the US Open.
Clijsters, who retired in May 2007 saying a string of injuries had led to fatigue, a lack of motivation and a decline in play, gave birth to Jada last year.
However, after more than two years of domestic bliss, the Belgian made a comeback this year at Cincinnati and after only two tournaments, has now upset Venus Williams at the Open.
Clijsters's mother, Els, had a son Zeth with second husband Jan Goossens a few weeks after Jada Ellie was born. 
Will makes his presence felt
Last updated on: September 8, 2009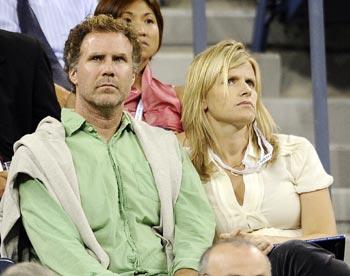 Will Ferrell and his wife Viveca Paulin watch Spaniard Rafael Nadal play German Nicolas Kiefer at the US Open.
Ferrell, who initially started as a cast member of Saturday Night Live, and has subsequently starred in films like Talladega Nights and Stranger than Fiction, was also seen in the recently-released The Goods: Live Hard, Sell Hard.