Federer clinches first French Open title
June 7, 2009 22:07 IST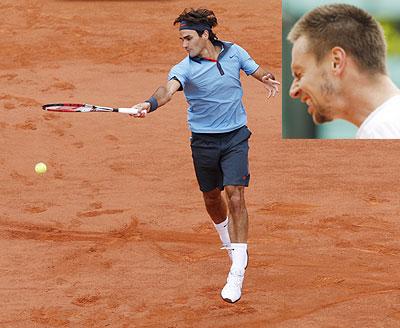 Roger Federer ended his French Open jinx when he swept past Swede Robin Soderling 6-1, 7-6, 6-4 in the final to clinch his first Roland Garros title on Sunday.
The Swiss equalled Pete Sampras's record of 14 grand slam titles and became the sixth man to win all four major tournaments, sealing victory in just under two hours in cloudy conditions.
"It was really not easy to deal with my emotions," said the 27-year-old Federer, who lost to world number one Rafael Nadal in the three previous finals.
"It might be the greatest victory of my career."
The 23rd-seeded Soderling had ended Nadal's four-year reign on the Paris clay in the fourth round.
"To me, he is the best player in history," the Swede said.
Federer, the second man after Andre Agassi to win all four grand slam titles on four different surfaces, started the match confidently by racing into a 4-0 lead with two breaks.
Soderling held serve for 4-1 but Federer, who had never lost to Soderling in nine previous matches, kept up the pressure and clinched the first set on the Swede's serve with a crosscourt passing shot.
Briefly interrupted
June 7, 2009 22:07 IST
The match was briefly interrupted after a man came on to Centre Court with a red and blue flag during the fourth game of the second set.
The man jumped from the stand opposite the media box and approached Federer, touching him with the flag.
Leaping over the net towards Soderling, the man was tackled by Roland Garros security officers and carried away from the court.
Federer lost three points in a row after the incident as Soderling levelled for 2-2.
Both players held serve to a tiebreak which Federer cruised through 7-1 after serving four aces.
The Swiss broke in the first game of the third set when his opponent sent a forehand wide and he never found a solution to turn the situation around.
Federer ended his wait on the first match point when Soderling netted a service return, the Swiss falling on his knee in tears and triggering a deafening roar from the 15,000 crowd.
Pressure is off for Federer
June 7, 2009 22:07 IST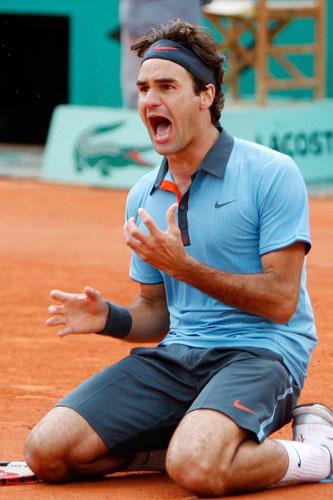 World number two Roger Federer said he would never again feel any pressure in his career.
"It might be the greatest victory of my career," said the 27-year-old Swiss, who equalled Pete Sampras's record of 14 grand slam titles and became the sixth man to win all four majors.
"It takes away so much pressure. Now, I can play in peace for the rest of my career.
"Nobody will never tell me again that I have not won Roland Garros."
Federer was presented with the Musketeers' Cup by Andre Agassi, the only man before him to have won the four grand slams on four different surfaces.
"It feels good to be on the podium as the winner for once. It is a magical moment."
Three straight final defeats and then...
June 7, 2009 22:07 IST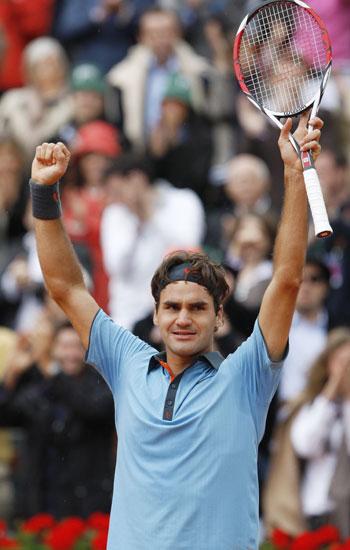 The Swiss had lost the three previous French Open finals against four-times champion Rafael Nadal, who was beaten in the fourth round by the 23rd-seeded Soderling.
"Congratulations for your wonderful tournament," he told the Swede.
Speaking to the 15,00 crowd, he said: "You put a lot of pressure on my shoulders but you backed me so much.
"I don't know how to thank you. Maybe this title is a little something.
A smiling Soderling said he was beaten by the "best player in history."
"Yesterday, with my coach (Magnus Norman) we were joking, like nobody can beat me 10 times in a row," he said, referring to Federer having beaten him in their nine previous encounters.
"We were wrong."
Federer's salvation on clay
June 7, 2009 22:07 IST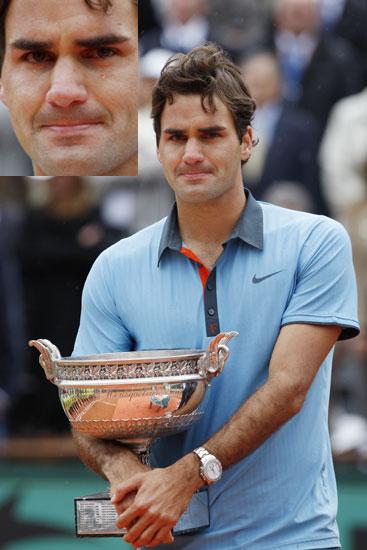 The Swiss had won all his nine prior encounters with the 23rd seeded Swede.
"There is no easy grand slam final. It's very simple, because the one who is on the other side of the net has also won six matches and is definitely in the shape of his life," said Federer, who lost in the last three French Open final against Spain's Nadal.
Soderling, who was expected to rely on his big serve and punishing forehand to shake up the Swiss, said his job was not done in Paris ahead of the match.
"I think I realised what I have done so far, but it's not the end yet," he said. "The end will be on Sunday evening and then I will really think about what I have done these two weeks."
With temperatures as low as 15 degrees Celsius and light showers forecast, Sorderling might have used this little advantage.
"I think actually I played my best clay court matches when it's been a little bit colder and a little bit rainy. Hopefully it will be good for me," he said.
However, Federer was backed by the 15,000 Parisian crowd and was able to count on that support in the tough moments of the match.