Hungary crash nearly killed Massa
Last updated on: July 26, 2009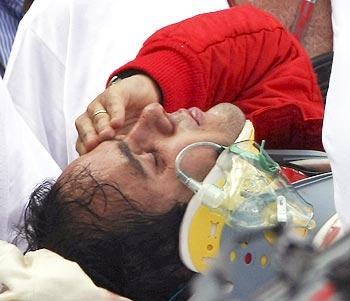 Ferrari's Felipe Massa was in intensive care Saturday after being hit on the head by bouncing debris and crashing heavily in Hungarian Grand Prix qualifying.
Massa suffered a cut forehead, skull damage and concussion in the accident caused by a fist-sized spring weighing around 800 grams falling off compatriot Rubens Barrichello's Brawn seconds earlier.
Formula One champions Ferrari said in a statement the Brazilian had undergone successful emergency surgery at Budapest's AEK military hospital.
A Defence Ministry official said Massa had been in a "serious, life-threatening condition" before the operation.
"He is in a stable and satisfactory condition," she said.
Massa ruled out of Hungarian Grand Prix
Last updated on: July 26, 2009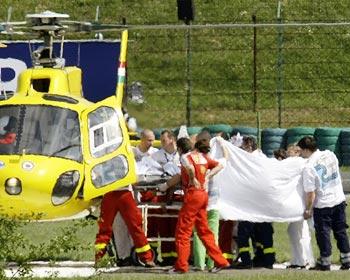 The accident, which rules Massa out of Sunday's race at the Hungaroring, brought back grim memories of the crash that killed compatriot and triple champion Ayrton Senna at Imola in 1994.
It also followed the death last Sunday of Briton Henry Surtees, 18-year-old son of Ferrari's 1964 Formula One champion John, who was killed by a loose wheel hitting him on the head in a race at Brands Hatch.
Massa's red car, leaving streaking brake marks across the asphalt, ploughed straight on at turn four and into the tyre wall.
The Brazilian, who appeared to have been knocked unconscious before the car left the track, was extracted and taken by ambulance to the circuit medical centre and then by helicopter to hospital.
'He was conscious, he was moving'
Last updated on: July 26, 2009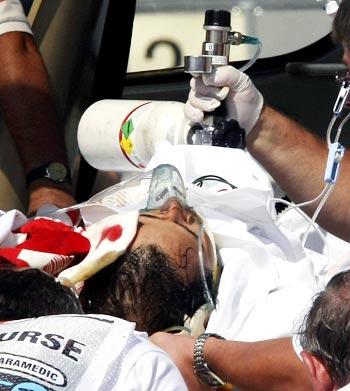 Italy's Gazzetta dello Sport website showed a photograph of the driver with his visor half ripped off and a bloody gash over his closed left eye.
A shaken Barrichello went to see his compatriot at the medical centre. "I wanted to see him myself because I've been in situations like that," he said.
"We are Brazilians and sometimes we have a family, sometimes we don't, and when we wake up all we want to see is someone we know. I wanted to be there in case there was not anybody from the family there.
"But he was conscious, he was moving and he was very agitated with the fact that he had a cut on his head. With that, they sedated him for him to calm down, and then they moved him to hospital."
'Something needs to be done'
Last updated on: July 26, 2009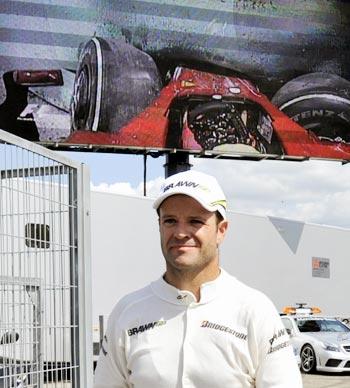 Barrichello, who had a big crash himself at the tragic Imola weekend that claimed the lives of Senna and Austrian Roland Ratzenberger, said what had happened to Massa and Surtees is a wake-up call.
"I honestly don't believe in coincidence in life. Things happen for a reason and I think this is the second message," he told reporters.
"Imola was a message. The cars were improved. Unfortunately we lost a boy, which is tremendously sad. It is not a coincidence that something happened right now.
"In the GPDA (Grand Prix Drivers' Association) we talked quite a lot about it yesterday and something needs to be done," said the 37-year-old.
'The doctors are happy with his condition'
Last updated on: July 26, 2009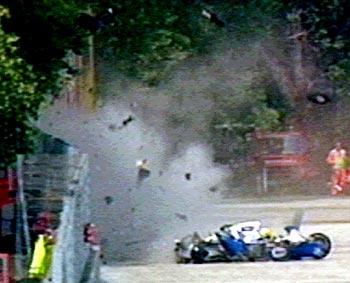 Senna died at the San Marino Grand Prix after his Williams careered off the track and into a concrete wall, the driver suffering a fatal head injury.
McLaren's world champion Lewis Hamilton agreed with Barrichello. "I believe things happen for a reason, and for two incidents to happen in such a short period of time, we can't ignore it," the Briton told reporters.
"We've got to make sure we learn from it, and improve if we can," he added.
Formula One supremo Bernie Ecclestone paid a brief visit to the hospital.
"The doctors are happy with his condition," he told Reuters television. "They will know more tomorrow."
Source:
© Copyright 2021 Reuters Limited. All rights reserved. Republication or redistribution of Reuters content, including by framing or similar means, is expressly prohibited without the prior written consent of Reuters. Reuters shall not be liable for any errors or delays in the content, or for any actions taken in reliance thereon.