Joshua steals the show
Last updated on: December 14, 2009 19:24 IST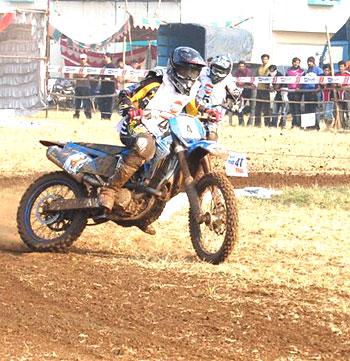 Pramod Joshua dished out yet another flawless display to win the top events in the third round of the gulf Cup Dirt Track Racking in Nashik on Sunday.
The 28-year-old Bangalorian, like in the previous rounds in Jaipur and Hyderabad, did TVS Racing proud by sweeping the Indian Expert Class Group A Foreign Motorcycles upto 260 cc and Indian Expert Class Group B upto 260cc 2 & 4 stroke classes.
The spectators, who turned up in their numbers, were left in awe as riders exhibited a memorable spectacle while displaying their skills during the event.
Dicey track for riders
Last updated on: December 14, 2009 19:24 IST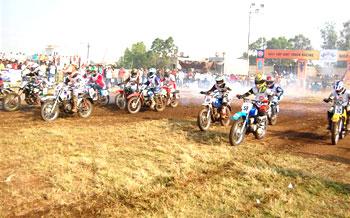 In addition to the sharp bends there was also loose gravel and water-logged areas to negotiate, which made riding a dicey proposition.
However, all riders, first timers included, displayed excellent skills to come through this test of man and machine in flying colours.
Joshua, like in the past, was given a tough time by his TVS mates from Bangalore R Natraj and H K Pradeep, but his flexibility and deft maneuvering over the serpentine bends proved decisive in his impressive showing.
R Prakash reigns in the Private Expert Class
Last updated on: December 14, 2009 19:24 IST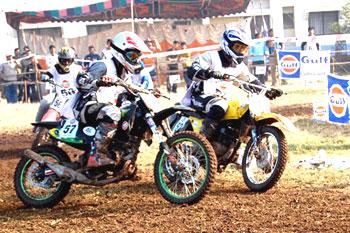 If Joshua stole the limelight in the Indian Expert class, it was R Prakash of Coimbatore who took the honours in the other glamour event, the Private Expert Class for foreign motorcycles 260cc 2 & 4 stroke.
Delhi's Maninder Singh and Pune's Fabio Chindy were favourites and expected to battle it out for the top spot, but Prakash beat back a strong challenge from both the fancied riders to win three of the four races in the category, leaving both Maninder and Fabio to settle for second and third places.
Mohan Pawar wins college class
Last updated on: December 14, 2009 19:24 IST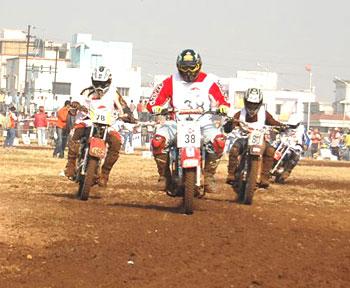 Mohan Pawar won the college class for Nashik riders for bikes upto 165cc.
Samir Bharve and Gaurav Deshpande finished second and third respectively.
Bhopal's Muzaffar Ali was best in the one of the four races in the Private Expert class, finishing ahead of Jaipur's Jas David and Nashik's Kalyan Kambekar.
Murthy rules the bends
Last updated on: December 14, 2009 19:24 IST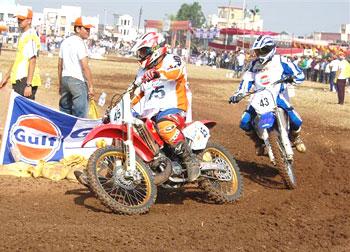 In the category for 131cc upto 165cc 4-stroke bikes, Bangalore's R Murthy was again a class above, racing ahead of Coimbatore's A Anand and Hidayath, in that order.
Pune's Pinkesh Thakker won three Open events for scooters 100cc 2 & 4 stroke, Motorcycles 165cc 4 stroke and 165cc 2 stroke.
Home fans cheer for Shewale
Last updated on: December 14, 2009 19:24 IST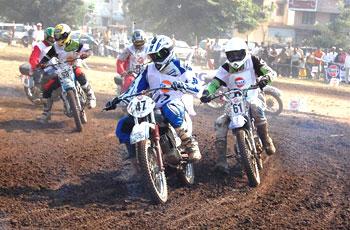 There was huge cheering when the Novice class was run. Nashik's Shashank Shewale gave the home fans a lot to shout about as he challenged Coimbatore's A Anand in the 165cc class all the way.
However, Anand had the final laugh after winning the race by a whisker. Shewale was placed second ahead of Mumbai's Kshitij Shukla.
Murthy won the other two races in the Novice class.
In the category for 130 cc 4-stroke bikes, he was placed first ahead of city mate Syed Hidayath and Mumbai's Kannan Naidu.