Australian authorities have received intelligence about a plan by Al-Qaida-linked terrorists to take foreigners hostage during the Commonwealth Games in New Delhi, a report said.
'The Australian' claimed that the hostage scenario had the top levels of Australian government worried, but they were reticent to issue an upgraded travel warning for fear of angering the Indian government.
The newspaper said the citizens of Australia, the UK, Canada and New Zealand could be targets of a hostage attempt because their countries supported the war in Afghanistan.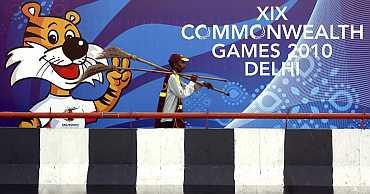 "It is a serious situation. There is specific intelligence about an attempted hostage snatch," the newspaper said quoting an unnamed source.
"The Australian Government should be upfront about this. People travelling to India, and particularly Delhi, need to be aware of the real risks."
The Department of Foreign Affairs and Trade refused to confirm the intelligence reports or whether RAAF medical evacuation teams had been put on standby.
"It is long-standing practice not to comment on intelligence matters. We do not comment on the number of personnel deployed for operational and security reasons," a spokesperson was quoted as saying.
Counter-terrorism and security consultants Homeland Security Asia-Pacific - who rate the chances of a terror attack in India during the Games at 80 per cent – warned Australians to take precautions if they were attending the Games.
Spokesman Roger Henning said Australians in Delhi should keep a low profile and not wear national colours or fly Australian flag, saying these could attract terrorists.
"People shouldn't wear an Aussie T-shirt, drape themselves in the Aussie flag, or draw attention to themselves in any other clothing which is identifiable as Australian," Henning said.
"The Indian Government has declared it cannot guarantee the safety of tourists, including spectators when outside the Games venues, so you are on your own. Delhi is not a safe place."