Commonwealth Games Federation president Mike Fennell was more than assertive when he held the Organising Committee of the Delhi Games responsible for the mess and delay in building infrastructure for the extravaganza, scheduled from October 3 to 14.
Addressing a press conference in New Delhi on Saturday, Fennell said, "I hold the Organising Committee directly responsible and they need to answer."
Organising Committee chairman Suresh Kalmadi, who was also present at the press conference, cut a sorry figure. Lalit Bhanot was questioned on his controversial statement "their standard of hygiene may differ from our concept of hygiene".
According to sources in the Indian Olympic headquarters, Bhanot could not defend his comments when Fennell pulled him up for the statement broadcast on television networks across India.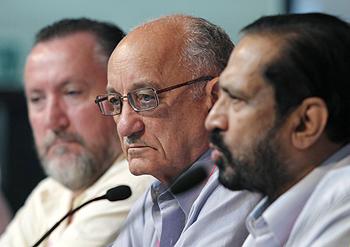 Fennell, however, admitted that there has been lot improvement in the standard of cleanliness at the Games Village.
"There are issues like security of some other stadia and health-related issues that need to be addressed," he said.
"I would make another visit to the Games Village shortly and oversee the things myself," the Commonwealth Games head said.
Asked who is responsible for the delay in construction work, Kalmadi, who had been incommunicado to the media for sometime, said, "I, as the head of the Organising Committee, take the blame and no one else."
Prime Minister Dr Manmohan Singh had pulled up Union Sports Minister MS Gill when the latter tried to make a presentation on the Games before him.
The PM told Gill and Union Urban Development Minister Jaipal Reddy to make improvements in the stadiums and Games Village.
He also asked Delhi Chief Minister Shiela Dikshit to co-ordinate withe the other agencies rather than waste time.
According to the Union Home Ministry, security will be in place by Saturday evening and intelligence agencies will share their inputs with the Home Minister P Chidambaram, who in turn will pass it to Y S Dadwal, Police Commissioner of Delhi.
Dadwal has been made overall in-charge for providing security cover at all the venues.