Citing concerns over health and security in Delhi, Australian discus thrower Dani Samuels has withdrawn from the country's Commonwealth Games team.
Samuels, who claimed gold in the discus at last year's world championships in Berlin, informed Australian team officials of her decision this afternoon.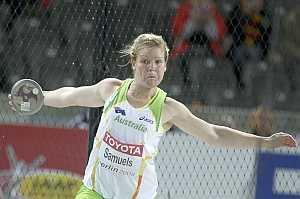 Her coach, Denis Knowles, said Samuels' withdrawal from the Commonwealth Games was "not an easy decision" and was due in part to Sunday's shooting of two Taiwanese tourists in Delhi and the recent outbreak of dengue fever there.
Samuels has become the first athlete to withdraw from the Commonwealth Games on account of health and or security fears, The Sydney Morning Herald reports.
Her move comes on the same day that senior New Zealand officials raised the prospect of pulling their team out of the Commonwealth Games due to the poor state of the athletes' village.