Rafael Nadal sealed his place among the tennis greats on monday, beating Novak Djokovic to win the US Open and complete his collection of Grand Slam titles.
With eight Grand Slams already under his belt before this tournament began, the Spaniard was already assured a spot in the sport's elite, but conquering New York elevated him to a whole new level and left no doubts about who is the number one player in the world.
Nadal overcame the distraction of a two-hour relay delay and losing his first set of the tournament to beat the brave but ultimately outclassed Djokovic 6-4, 5-7, 6-4, 6-2 after three hours and 43 minutes of unrelenting tension at Arthur Ashe Stadium.
Djokovic, who had beaten Roger Federer in an exhausting five-set semi-final on Saturday, expelled any doubts about his fighting qualities with a courageous performance, fending off an astonishing 20 break points during the course of the match, but the pressure eventually wore him down.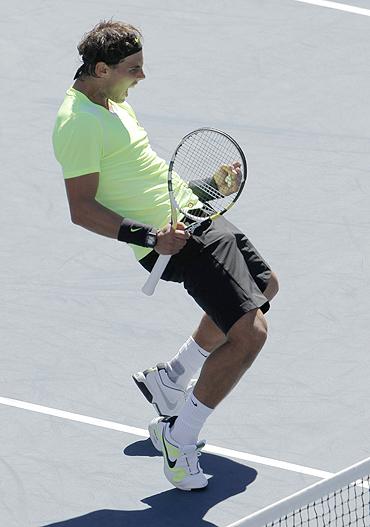 After losing the second set on a sloppy service game, Nadal ran away with the last two -- clinching the victory when Djokovic hit a forehand wide -- and collapsed on court as the enormity of his achievement sank in.
Nadal had already won the Australian Open, French Open and Wimbledon singles titles and by adding the US Open he joined Fred Perry, Don Budge, Rod Laver, Roy Emerson, Andre Agassi and Roger Federer as the only men to win the four majors.
At 24, he is�the third youngest to achieve the feat and his best may be still to come.
Nadal became the first man since Laver in 1969 to win the French Open, Wimbledon and US Open in the same year and he now has the chance to hold all four concurrently if he can add the Australian Open in January.
With nine Grand Slam titles in total -- five French Opens, two Wimbledon, one Australian Open and now one US. Open, he climbed to seventh place on the all-time list and Federer's record of 16 could be within his reach if he stays healthy.
The US Open, played on hardcourt, had always been Nadal's biggest hurdle because of the wear and tear it puts on his troublesome knees.
But he arrived in New York this year, fresher than ever and armed with a new and improved serve that enabled him to sail through his opening matches without fuss.
Djokovic has always been at his best on hardcourts. He made the final at Flushing Meadows in 2007, losing to Federer, then won the Australian Open the following season.
He fought off two match points to beat Federer in the semi-finals on Saturday and got a lucky break when rain washed out Sunday's final, giving him an extra day to recharge his batteries.
He got another lucky break when the final was halted after a thunderstorm hit midway through the second set but it was never going to be enough against a man with destiny in his sights.