Wrestler Sushil Kumar rewrote the history books once again as he became the first Indian wrestler to win a gold medal in the World Wrestling Championships.
Sushil outwitted Russian grappler Gogaev Alan 3-1 to win the final bout of the 66 kg men's freestyle category to clinch the gold medal.
Sushil had won the bronze medal in the Men's 66kg Freestyle Wrestling event at the 2008 Beijing Olympics. Kumar defeated Leonid Spiridonov of Kazakhstan in the repechage round to win the bronze.
According to international body's website (FILA), Sushil clinched two crucial points in the first period while his opponent only managed one.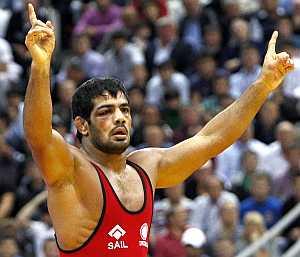 Sushil kept the pressure on Russia's Gogaev and picked one more point in the second period to clinch the coveted gold medal.
Earlier, Sushil beat Hasanov Jabrayil of Azerbaijan in the semi-final. According to international body's website (FILA), Sushil had won his semi-final bout 4-3.
The Azerbaijani grappler started off well as he notched up the lone point in the first period but Sushil bounced back and levelled the score 1-1 in the second period.
In the third period Sushil dished out an attacking game and clinched three more points as compared to his opponents Hasanov's two to seal the issue in his favour.