Lewis Hamilton's Formula One title hopes suffered a setback when he crashed out of Sunday's Italian Grand Prix without completing a lap.
The championship leader banged wheels with Ferrari's Brazilian Felipe Massa at the Della Roggia chicane, breaking the McLaren's front right suspension and sending the car into the gravel trap.
Massa's Ferrari appeared undamaged and he continued in third place, riding shotgun behind Spanish team-mate Fernando Alonso and McLaren's world champion and early race leader Jenson Button.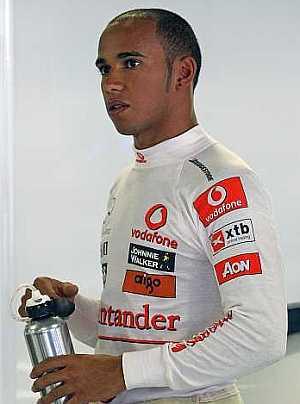 "The championship is not over, but it's mistakes like I made today that lose world championships," a frustrated Hamilton told reporters.
"It's one of those things, wrong place, wrong time. Little I could do about it. That's racing.
"It's my fault, I'll take the blame," he added.
Hamilton, the 2008 world champion, started in fifth place and had hoped to stretch his three-point lead over Red Bull's Australian Mark Webber with five races remaining after Italy.
Instead, Webber was on course to snatch back the overall lead from the 25-year-old.
"I had a good start and gained a position. In a realistic world I perhaps should've stayed there a while," said Hamilton.
"I put my car up the inside and tried to get third -- it was obviously a little bit too much. I'm very disappointed in myself and sorry for the team. I've got to try to collect my thoughts and move on to the next race," he added.
Hamilton's retirement was his second in three races, although he won the previous race in Belgium, and second in succession in Italy.
The Briton qualified on pole at Monza last year but crashed out on the last lap while running in third place.