Chelsea made it four wins out of four and left West Ham United rooted to the bottom of the Premier League with four defeats as the champions strolled to a 3-1 victory at their London rivals on Saturday.
Two goals for Michael Essien and a fortunate one for Salomon Kalou left Chelsea three points better off than Manchester United.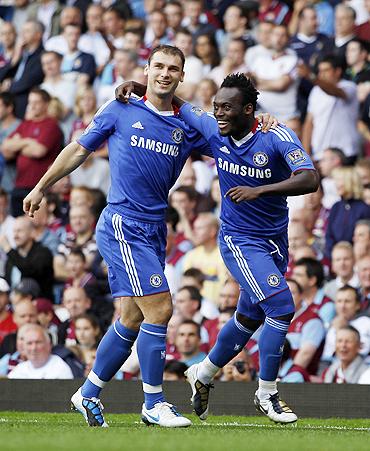 United were held to a 3-3 draw at Goodison Park after Everton scored twice in stoppage time in a match Wayne Rooney missed to avoid any crowd abuse at his former club.
Arsenal took full advantage of a red card for Bolton Wanderers defender Gary Cahill with a 4-1 home win while Moussa Dembele's second goal of the game, in the last minute, gave Fulham a 2-1 home win over Wolverhampton Wanderers.
Promoted Blackpool continued their impressive start to the season with a 2-0 win at Newcastle United while Tottenham Hotspur and Manchester City continued to stutter as they could only draw with Blackburn Rovers and West Bromwich Albion respectively.