Congratulating Rohan Bopanna and Aisam-ul Haq Qureshi on reaching the US Open men's doubles final, Sports Minister M S Gill on Thursday said the pair's success should lead to better sporting ties between India and Pakistan.
"I have one question for everyone. If Bopanna and Qureshi can play together, why cannot India and Pakistan?" he asked, after congratulating the duo on making it to the final of the season's last Grand Slam in New York.
Bopanna and Qureshi beat Argentines Eduardo Schwank and Horacio Zeballos 7-6 (5), 6-4 in the semi-finals on Wednesday night to set up a clash with top seeded American brothers Bob and Mike Bryan.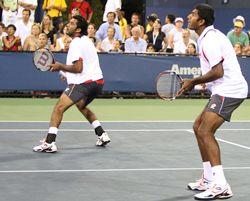 Gill said Bopanna and Qureshi, nicknamed the 'Indo-Pak Express', have shown great understanding on court to achieve success.
"I have been following the Bopanna-Qureshi combination in tennis doubles. They combine very well, have total understanding and are top doubles players in the world. Now they are in US Open final and I pray for their win," he said in a congratulatory message.
"I am confident that would achieve the sub-continent dream finally," he added.
Photograph: Mohammed Jaffer/Snapsindia
© Copyright 2021 PTI. All rights reserved. Republication or redistribution of PTI content, including by framing or similar means, is expressly prohibited without the prior written consent.