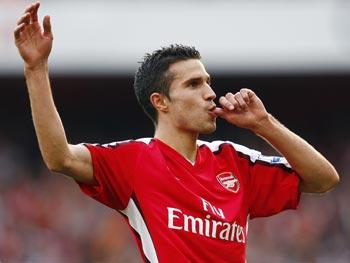 Arsenal striker Robin van Persie is likely to be out of action until mid-October, the Premier League club said on their website (www.arsenal.com) on Tuesday.
The Dutch international faces a spell on the sidelines after injuring his ankle in the 2-1 win at Blackburn Rovers on Aug. 28.
The 27-year-old Van Persie also missed a large chunk of last season through injury but recovered in time to help his country reach the World Cup final in July.
A day earlier Dirk Kuyt had been ruled out for several weeks after injuring his shoulder when he fell awkwardly while attempting a bicycle kick in training.
The Liverpool player's injury means Van Marwijk will be without the forward line he fielded in the World Cup final defeat by Spain in July.
Bayern Munich [winger Arjen Robben is out of the Finland game with a hamstring injury.
"Now the strikers are out, the others can show what they can do," said the coach.