Red Bull's Sebastian Vettel reckons that he can still win the Formula One championship title despite trailing leader Fernando Alonso by 25 points with only two races remaining.
Vettel failed to finish Sunday's Korean Grand Prix after his car's engine blew nine laps from home with victory in sight.
"I'm the last person to give up. We have two races to go and we saw in Korea how quickly things can change. Let's wait to see what Abu Dhabi brings," the Sun quoted Vettel, as saying.
The 23-year-old further said that the engine failure was tough to swallow.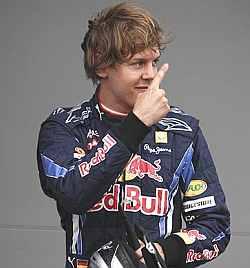 "It was such a hard moment. With Mark's crash it was hard as a team, but the reason for the failure was not my fault. There was no sign of engine the defect. In turn 17 I lost a row of cylinders. I could then count down to when it would break," Vettel said.
"We have engines with little mileage, so I'll be fine for the remaining two races," he added.
With two races to go, and a maximum 50 points to be won under the new scoring system, Vettel (206 points) is 25 points behind Ferrari's title leader Fernando Alonso (231 points).
Red Bull team-mate Mark Webber is at second place with 220 points, while McLaren's Lewis Hamilton is third with 210 points.