American boxing legend Mike Tyson has finally dispelled any notion that he will make a return to the ring.
Tyson had retired from professional boxing in 2006 after Danny Williams and Kevin McBride knocked him out in consecutive matches.
"I'm done with boxing. I was a fighter for long enough. I know Holyfield still fights and every boxer has a right to fight to earn money to pay for his family, but it is not my thing. I've had it," the Daily Express quoted Tyson, as saying.
"I've had my time. And anyway, who has come back from years out of fighting and been successful?" he added.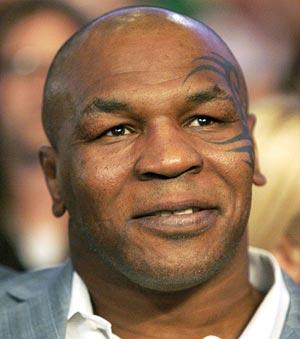 Nicknamed Iron Mike, Tyson is considered to have been one of the greatest heavyweight boxers of all time, as he holds the record of being the youngest boxer to win the WBC, WBA and IBF world heavyweight titles.
Throughout his career, Tyson became well-known for his ferocious and intimidating boxing style as well as his controversial behavior both inside and outside the ring.
He was the first heavyweight boxer to hold the WBA, WBC and IBF titles simultaneously.
Earlier, Tyson had said that he wants to forget his hard-man image earned in the ring and become a missionary.
"I want to count for something. Not in the name of God or any religion, but in the name of self-dignity. I feel I'm a clown, I'm a joke. I just want to do nice things so my kids can respect me," the 44-year-old had said.
Tyson credits his third wife Kiki for making him a better person and a decent husband.
"I realized that if I wanted to have a healthy life and if someone was willing to love me, then she deserved the best I had to offer, physically, emotionally and spiritually. In order to make this work all the other stuff has to die," Tyson said.