Wayne Rooney performed a stunning U-turn on Friday by signing a five-year contract to stay at Manchester United and ending a week of bombshells with yet another shock.
He attributed his change of heart to manager Alex Ferguson, whom he called a "genius" and said he had convinced him that he belonged at United.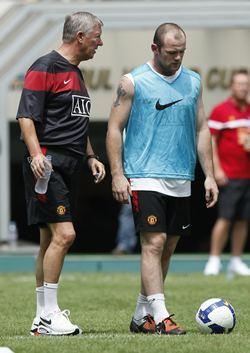 "I'm delighted to sign another deal at United. In the last couple of days, I've talked to the manager and the owners and they've convinced me this is where I belong," Rooney said in a statement.
"I'm signing a new deal in the absolute belief that the management, coaching staff, board and owners are totally committed to making sure United maintains its proud winning history -- which is the reason I joined the club in the first place."
Ferguson, who spoke of his shock earlier this week at Rooney's wish to leave, had been locked in talks with chief executive David Gill to sort out what he said was in danger of becoming a 'saga'.
His bemusement turned to delight on Friday with the announcement of a deal that would keep Rooney at the club until at least June 2015.
"It's been a difficult week, but the intensity of the coverage is what we expect at Manchester United. I said to the boy that the door is always open and I'm delighted Wayne has agreed to stay," Ferguson said in the statement.
"Sometimes, when you're in a club, it can be hard to realise just how big it is and it takes something like the events of the last few days to make you understand. I think Wayne now understands what a great club Manchester United is.
"I'm pleased he has accepted the challenge to guide the younger players and establish himself as one of United's great players. It shows character and belief in what we stand for."
The news stunned the footballing world, with former United player Lou Macari telling Sky Sports News: "I thought it was April 1. Nothing has shocked me more in football ever than this week."
BRIDGE BUILDING
Despite pledging his commitment to the club, in a deal where the financial details were not revealed, Rooney may still have some bridges to build with fans who felt betrayed by his exit plans and players who may have felt let down by their team mate.
He had also publicly contradicted his manager earlier this month by saying he was not injured when Ferguson said he had an ankle injury, an embarrassment both parties will be keen to draw a line under.
"I'm sure everyone involved with the club will now get behind Wayne and show him the support he needs to produce the performances we know he is capable of," said Ferguson.
Rooney said he would win the fans over again.
"I'm sure the fans over the last week have felt let down by what they've read and seen," he said.
"But my position was from concern over the future. The fans have been brilliant with me since I arrived and it's up to me through my performances to win them over again."
After a 34-goal season last term, Rooney has struggled to find his form this season with just one club goal, a penalty.
Fans will hope the removal of the burden of uncertainty over his future, which had hung over him since telling Ferguson on Aug. 14 that he wanted away, will enable him to return to his best.
Rooney had been linked with a move across the city to neighbours Manchester City, inciting anger among United fans. Police said they had to disperse a crowd of 20-30 people who had gathered outside his home on Thursday in protest.