Coutts and Narang 'Queen and King of the Games'
Last updated on: October 15, 2010 19:29 IST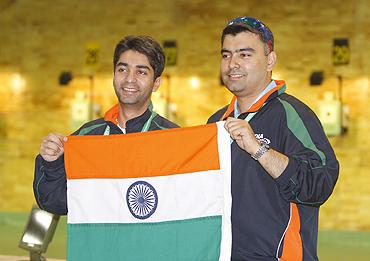 India finished second in the final pecking order, with more than 100 medals, as the curtain came down on the Commonwealth Games, on Thursday.
A record medal haul of 38 gold, 27 silver and 36 bronze medals, the best-ever harvest for the country in the Games' history, helped India climb to a record-high second place and end the multi-discipline extravaganza on a thumping note.
The main haul of these 101 medals came from the shooting range, wrestling mat, boxing ring, archery range and, to everyone's surprise, the track and field.
A look at the some statistics from the Games.
Australia's Coutts and India's Narang 'Queen and King of the Games'
With five gold medals in swimming, Alicia Coutts of Australia was the most successful athlete at the Delhi 2010 Commonwealth Games.
India's Gagan Narang was the most successful male athlete. He won four gold medals in shooting.
Jones, Seebohm equal all-time medal records
Last updated on: October 15, 2010 19:29 IST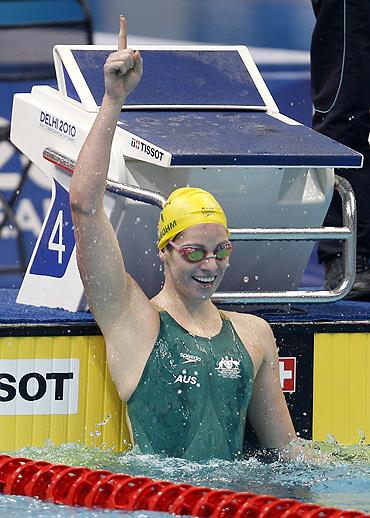 Australians Jones and Seebohm equal all-time medal records
Leisel Marie Jones of Australia became the third person to win 10 gold medals in Commonwealth Games history, tying the all-time record of compatriots Susie O'Neill and Ian Thorpe.
Emily Jane Seebohm of Australia equalled the record of winning eight medals in total in a single edition of the Games. Australian swimmers Ralph Hutton in 1966 and Susie O'Neill in 1998 were the only other athletes to achieve this feat.
Aus lead medals tally
Last updated on: October 15, 2010 19:29 IST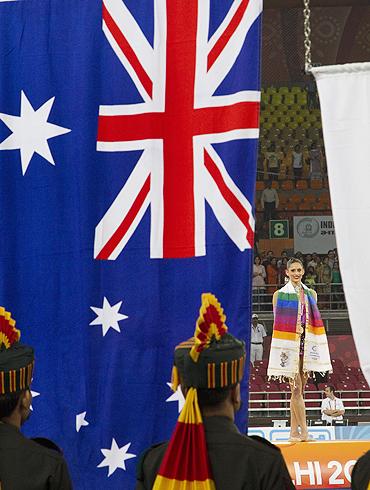 Australia tops medals tally at Delhi Games
Australia was the most successful nation at the Delhi Games. It won 74 gold, 55 silver and 48 bronze medals. It was the 12th time they finished as the top nation in the medals table.
Australia has been the most successful nation in every edition of the Games since 1990.
England was the third-best nation at this Games, behind India. Only once before, at the Victoria 1994 Games, have two nations performed better than England.
India puts up improved performance
Last updated on: October 15, 2010 19:29 IST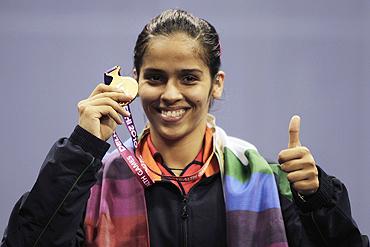 Host nation India performs better than ever
India won more gold medals than it had won before in one Games. It took 38 gold medals, its previous record was 30 in 2002.
With its 101 medals in total, India finished runners-up in the medals tally and became the fourth nation to reach the century mark in one Games.
Every host nation of the Commonwealth Games has beaten its previous record number of medals, and India joined that list in 2010.
First medal for four countries
Last updated on: October 15, 2010 19:29 IST
Four nations win their first Games gold medals
Natasha Mayers clinched the first gold for St Vincent and the Grenadines, in the women's 100m in athletics, on October 7.
Amantle Montsho won Botswana's first gold in the women's 400m in athletics on October 8.
Faavae Faauliuli collected Samoa's first gold medal in Commonwealth Games history, in the men's 94kg weightlifting on October 9. A day later, two other Samoans won gold in this sport.
On October 11, Cydonie Camile Mothersill won the first gold medal for Cayman Islands, when she ran to victory in the women's 200m event in athletics.
Medal milestone for Aus
Last updated on: October 15, 2010 19:29 IST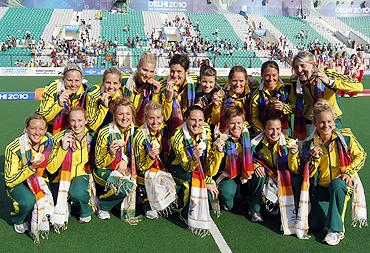 Australia reaches medal milestones in Delhi
On October 8, Kasey Browns clinched Australia's 2000th medal in all Commonwealth Games. She took the bronze medal for Australia in the women's singles in squash.
The women's hockey team won Australia's 800th gold medal in Commonwealth Games history on October 13.
Unique record for Croak
Last updated on: October 15, 2010 19:29 IST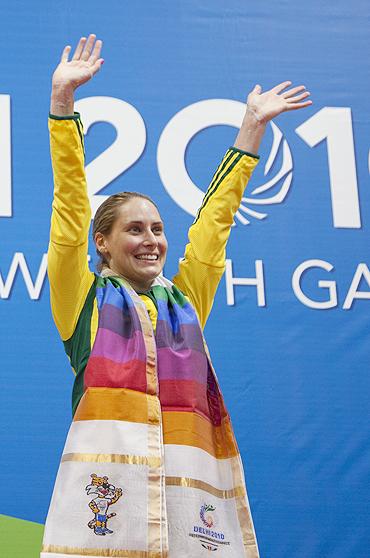 Croak wins gold in two different sports at CWG
Alexandra Croak of Australia became the first athlete to win gold in two different sports at the Games, considering cycling road and cycling track as the same sport.
Croak won a gold medal in diving in Delhi 2010, and had previously won gold in artistic gymnastics in Manchester 2002.
Athletics biggest winner at Games
Last updated on: October 15, 2010 19:29 IST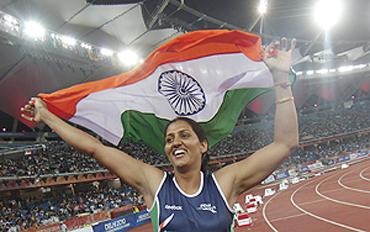 More podium sweeps than ever in athletics
In six athletics events, one nation swept the podium with more medal sweeps than ever at the Commonwealth Games in this sport.
Kenya clinched the gold, silver and bronze medals in four events: the women's and men's 3000m steeplechase, the men's 800m and the women's 5000m.
England swept the podium in the men's 110m hurdles and India won all medals in the women's discus throw.
Aus, NZ continue winning streak
Last updated on: October 15, 2010 19:29 IST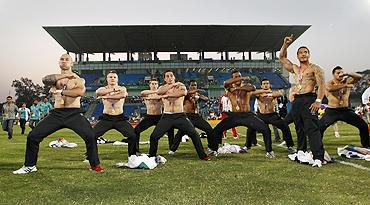 Winning streaks in rugby, hockey and swimming extended
New Zealand won the Rugby Sevens gold in Delhi, as it had also done in the three previous Rugby Sevens tournaments at the Commonwealth Games. New Zealand has never lost a match in Rugby Sevens in the Games' history.
Australia won the title in men's hockey, having won gold in the event at all three previous Games in which it was held.
Canada kept its 100 per cent record in synchronised swimming alive. It won all 14 events since the sport was included in the Games in 1986.