A dazzling laser show and a musical extravaganza on Thursday marked the finale of the Commonwealth Games, the biggest sporting event hosted by India which crowned itself with sporting glory by winning an unprecedented 101 medals.
Skies over the national capital lit with multi-colour laser beams and fireworks as part of 160-minute closing ceremony at the Jawarharlal Nehru stadium filled to capacity of 60,000 cheering sports lovers including Vice-President Mohammad Hamid Ansari, Prime Minister Manmohan Singh, Congress President Sonia Gandhi as well as other sundry VIPs.
The ceremony though was not even close to the spectacle witnessed at the opening ceremony.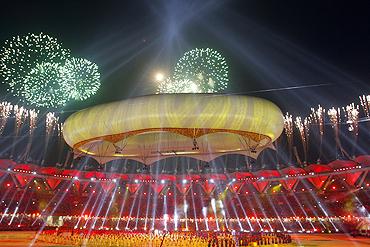 As at the grand opening ceremony 12 days ago, all the controversies that had dogged the Games -- corruption, filth, snakes, mismanagement -- were momentarily forgotten because some 5000 athletes from 71 countries had sportingly competed for 826 medals of which India won 101, including 38 gold, its highest ever, to be the second in the tally behind Australia with a total of 177.
Prince Edward, patron of the Commonwealth Games Federation, formally declared the 19th edition closed amid thunderous cheers from the audience.
Reading out the closure statement, the Prince said, "In the name of the Commonwealth Games Federation, I proclaim the XIX Commonwealth Games Delhi 2010 closed.
"In accordance with tradition I call upon the sportsmen and sportswomen of the Commonwealth to assemble in four years time in Glasgow, Scotland, there to celebrate the XX Commonwealth Games."
The ceremony began with the arrival of dignitaries who included the Prime Minister, the Vice President, UPA chairperson, CGF chief Michael Fennell and Sri Lankan President Mahinda Rajapaksa, the guest of honour.
The Indian national anthem was played as the packed stand stood up in respect to mark the beginning of the closing ceremony.
Pyros took off from the roof of the stadium giving a delightful sight as countdown in Devanagri script opened up the proceedings with the crowd roaring from the stands.
There was much excitement and euphoria in store when a tribute was paid to the India's sporting spirit, aptly titled Agni -- a segment that featured the fiery and passionate tradition of the country's martial arts.
Chants of Agni shloka preceded eight martial art forms -- Kalaripayattu, Naga warriors, Thangta, Gatka, Silambam, Akhara, Dhan Patta, Talwar Raas -- that enthralled the audience as skies lit up with dazzling fireworks.
© Copyright 2020 PTI. All rights reserved. Republication or redistribution of PTI content, including by framing or similar means, is expressly prohibited without the prior written consent.