Sebastian Vettel pipped championship leading Red Bull team-mate Mark Webber to pole position in a rain-delayed Japanese Grand Prix qualifying session on Sunday.
Australian Webber, who is 21 points clear of the German, could not match the pace of last year's race winner who dominated Friday practice and was fastest in all three qualifying stages.
Renault's Robert Kubica starts third.
The pole, on a sunny morning at Suzuka after the irony of driving rain making it impossible to drive on Saturday, was Vettel's eighth of the season and Red Bull's 13th in 16 races.
McLaren and Williams are the only other teams to have taken as many poles in a single season, with Vettel and Webber claiming their seventh front row lockout of the year for the championship leaders and looking irresistible for the race.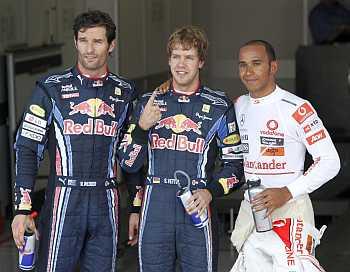 "The last two races were a little bit difficult for us but all in all I think we could improve the performance of the car," said Vettel.
"We came here with quite some confidence. Obviously this track is kind of made for us," he added.
Webber, winner of four races this season, said he had enjoyed the "tussle" with his team mate.
"The important part is to come. Today there's a chance to put some points on the board," added the Australian.
PODIUM POSSIBILITY
His closest title rival, Ferrari's double world champion Fernando Alonso who is 11 points behind with three races remaining after Japan, qualified fifth but will start fourth.
"I'm sure the podium is very much possible. We need to pressure Red Bull," said the Spaniard, whose team mate Felipe Massa will be little help to him after qualifying 12th.
McLaren's title contender Lewis Hamilton, the third fastest, will have a five place grid penalty applied after an unscheduled gearbox change on Saturday. Stewards rejected a complaint by Williams that he had blocked their driver Nico Hulkenberg.
Hamilton, the 2008 world champion, is third overall and 20 points adrift of Webber.
The Briton, his troubles compounded by an ear infection, said he had done the best possible but it would be a tough race and a question of damage limitation.
He revealed also that his problems might have been avoided had the gearbox problem been detected earlier.
"We knew this weekend that they (Red Bull) would be very competitive and it's not been the best of weekends for us," said Hamilton, who crashed on Friday and managed little more than a handful of laps before qualifying.
"The collision I had with Mark (in Singapore) damaged the driveshaft or the diff. Unfortunately we hadn't noticed that and it caused us to have a gearbox change," added Hamilton, who has retired from three of his last four races.
"Nonetheless the guys did a fantastic job last night, stayed up as late as they could to make sure the car was good. It was difficult for me to come here today only having five or six laps on the track through Friday and Saturday."
World champion Jenson Button, hoping to retain his crown but 25 points off the pace, will start fifth for McLaren after finishing the session with the sixth best time.
"We'll have a different strategy than everyone else," promised the Englishman.