- Images from the Games: Day 1 | Day 2 | Day 3 | Day 4 | Day 5 | Medals Tally
Ace marksman Vijay Kumar completed a golden hat-trick on Saturday after winning the gold medal in men's 25-metre centre fire pistol pairs event at the 2010 Commonwealth Games at the Dr Karni Singh Range in Delhi.
Vijay (586) and Harpreet Singh (573) registered a total of 1159 to place first in the event, ahead of New Zealand duo Greg Yelavich and Alan Earlie, who scored 1140.
Singapore's Bin Gai and Lip Meng Poh had to settle for bronze after scoring 1139.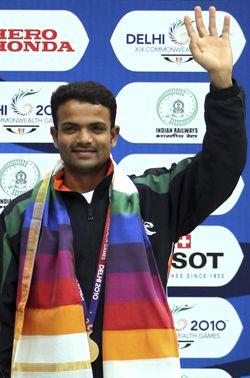 This is Vijay's third gold medal at the Delhi Games and it also boosted India's gold medals tally to 21.
Before this, Vijay clinched gold in the singles 25m rapid fire pistol with a new Games record and the 25m centre fire pistol pairs.
"I am delighted to win my first gold in the Commonwealth Games. I dedicate it to the Indian Navy and my senior officers. Without their support I wouldn't have made it," said Harpreet.
Asked about the competition he and his partner faced from New Zealand's Poh and Gai, Harpreet replied, "It was very tough and difficult to perform in front of the home crowd. But I was well prepared for the Games."
Vijay credited coach Smirnov Pavel for his success.
"Whenever there is a problem, he was there to help us," said Vijay.
However, woman shooter Shirur was disappointed not to have won the gold medal.
In the women's section, India's Suma Shirur and Kavita Yadav had to be content with the bronze in the 10-metre air rifle event as Malaysia's Ayuni Halim and Nur Suryani bagged the yellow metal.
Singapore's Ser Xiang Wei Jasmine and Cheng Jian Huan won the bronze medal.
"We could have done better. In fact we were hoping for a better showing but I guess it just wasn't our day," Suma said after her event.
On her teammate Kavitha, Suma said, "She is down with a fever and is also suffering cold and cough. It's not easy to shoot if you are not fit physically."