After winning the gold medal in 25m air pistol event, Indian woman shooter Anisa Sayyed on Wednesday thanked her husband for helping her when the chips were down.
Anisa was going through a financial crisis, struggling to buy a pistol after her old gun was damaged due to a malfunction. But when all seemed lost, her husband's company (Tulip) came to her rescue and bought her a new pistol, which is still in the possession of the Customs.
"My husband's company has helped me a lot. He was there when nobody was willing to help me. But I didn't shoot with that today," Anisa said.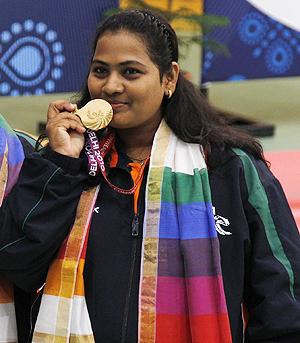 Even as the women's team of Anisa and Rahi Sarnobat basked in glory after winning gold in 25m air pistol for women, shotgun coach Marceillo Dradi seemed disappointed despite a second-place finish by Ronjan Sodhi and Asher Noria in pairs double trap event for men.
Sodhi and Noria clinched the silver after they totalled 188, one point behind gold medalists Steven Walton and Steven Scott of England.
"As a professional coach, I came to India with the aim to win gold, I cannot be happy with silver. I am happy for the team for winning medals but I am not happy for myself. My aim was to win gold. We have events tomorrow, so will figure our next play today evening," Dradi said.
"This was the best team we could have fielded but unfortunately we missed the gold by one point," the coach said.
Sodhi and Noria, however, were more than pleased with their efforts. "There was great competition but there was no pressure on us. I just missed the target and that happens. But full credit to England for winning the gold," Sodhi said.
Noria, the world junior champion, said "we really shot well as a team."
"I am still a junior but it feels good to be with the seniors, compete in such a big event and win medal," Noria said.
"Performing in front of the home crowd was a bit of a pressure but I always enjoyed shooting with Ronjan because he is my mentor," said Noria who won the junior world championship title in August.