Pakistan's nightmare on the sporting arena continues.
And, this time, it's the weightlifting team that's threatening to pull out of the Commonwealth Games following an internal dispute over carrying of the flag during Sunday's spectacular opening ceremony.
Pakistan's sports minister Dr M Ali Shah caused a major uproar in the Pakistani camp when, at the very last minute, he took the flag from former gold medal-winning weightlifter Shuja-ud-Din Malik and led the team on to the field, it was reported on Monday.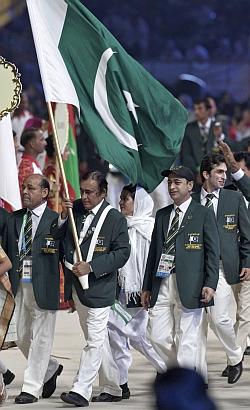 This happened moments before the Pakistan contingent was about to walk into the arena for the marchpast.
Shah had a slight tiff with the weightlifter as both fought over the flag, but the minister had the final say as he proudly marched on the field waving his national flag.
Apparently, the Pakistani weightlifters have threatened to pull out unless the minister tenders an official apology.
The Pakistan team was accorded a warm welcome from Indian fans inside the Jawaharlal Nehru stadium, getting the second biggest cheer after the hosts.