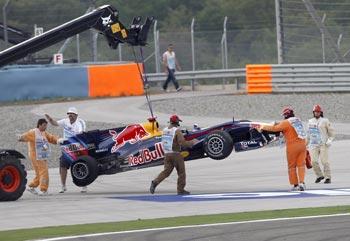 Red Bull will take steps to ensure the rivalry between their drivers does not wreck the team's Formula One title hopes, principal Christian Horner said on Sunday.
Australian Mark Webber, the championship leader, and team-mate Sebastian Vettel blew a one-two finish and handed the lead in the constructors' standings to McLaren when they collided in the Turkish Grand Prix.
"This will be dealt with before we go to Canada," Horner told reporters.
"I've spoken to both drivers. They are both grown-ups, they are both big boys, they are both competitors, and the most important thing is that we have given away a load of points today and it must not happen again. They must learn from it.
"It is right to let the drivers race, we saw McLaren today letting their drivers race, but when drivers are in the same team it is important that they give each other a bit more respect and concede if one has got a run on the other," he added.
The Canadian Grand Prix in Montreal is on June 13.
Horner said the team treated both drivers equally and gave them the same equipment and that policy would continue.
He also clarified how Vettel had suddenly managed to get within striking distance of Webber after the Australian had seemed previously unthreatened in the lead.
"We now have all the facts," he said. "Mark had changed down into a fuel saving mode that cost him a little bit of performance on the straights, which also explains how Sebastian got a very clear run on him.
"He (Vettel) had managed to save an extra kilogramme of fuel, as both cars start the race with the same amount of fuel.
"So effectively he had one more lap of the optimum engine mode, but we couldn't back him off because he was under pressure from Lewis Hamilton behind," he added.
Hamilton inherited the lead when the Red Bulls drove each other off the track, leading McLaren team-mate Jenson Button to a one-two finish.
"The frustrating thing is we have given away 28 points today and it should have been a one-two," said Horner. "Both drivers have also lost points.
"From a team point of view it doesn't matter which way around they are, but the priority is to finish one-two and that is exactly what we should have done today," he added.