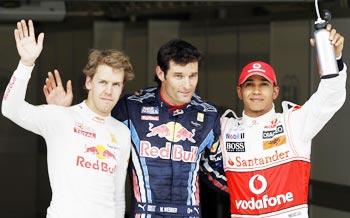 Formula One championship leader Mark Webber completed a hat-trick of pole positions at the Turkish Grand Prix on Saturday to hammer home Red Bull's qualifying supremacy.
The Australian, winner of the last two grands prix from the top slot, was nearly half a second quicker than German team mate Sebastian Vettel as he chalked up Red Bull's seventh pole in seven races.
McLaren's Lewis Hamilton joined Webber on the front row while Vettel, who is level on 78 points with Webber but behind on race wins, took the third slot next to world champion Jenson Button in the other McLaren.
"It's a great record, it shows tremendous pace in the car," said Webber of the run of poles.
"It's a real credit to the whole team," he added, fully aware that the driver starting on pole in Turkey has won four of the five races at the undulating and anti-clockwise Istanbul Park circuit.
Vettel had been quickest in the first two parts of qualifying but said his car's handling had gone astray in the final part, with the brakes locking repeatedly as he went into turns 12 and 14.
"I'm a bit lucky not to be fourth," said the 22-year-old, using a different chassis -- which he has dubbed 'Randy Mandy' -- to the previous six races.
"If you look at all the races, we (I) have always qualified in the top three so far which I think is not too bad.  
"I'm not the type of guy who says the car is broken, that's it. I always try to do my best.
"We need to see what happened here and then we see what we can do tomorrow. I think the pace is very good," he added.
Mercedes drivers Michael Schumacher and Nico Rosberg filled the third row after a session that took place in front of largely empty grandstands at what looks sure to be the worst-attended race of the year.
There was disappointment for glamour team Ferrari, preparing for their 800th grand prix, with Spain's double world champion Fernando Alonso qualifying 12th while Brazilian Felipe Massa starts eighth.
Hamilton, who has yet to win this season, shredded his tyres in final practice after skidding off at the tricky turn eight but got everything right when it mattered.
"I think on full fuel it will be a little bit closer," said the Briton after his team's best qualifying performance of the season so far.
"I'm happy with the balance of the car and we have a good opportunity tomorrow," he added.