Williams will revert to older versions of their front wing in Turkey this weekend after both of the Formula One team's cars crashed at the last race in Monaco.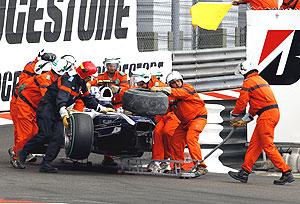 Technical director Sam Michael said in a preview for Sunday's race that new parts had to be manufactured after accidents involving Brazilian Rubens Barrichello and Germany's Nico Hulkenberg.
"All of the items that needed replacing have been replaced now, apart from the front wings which require more time," he said.
"As a result, we have to revert back to a previous specification for this race and wait until Montreal for the updated version."
The Canadian Grand Prix is on June 13.
Michael said the former champions, currently languishing in seventh place with eight points from six races, hoped to see a performance boost from engine provider Cosworth at the Istanbul circuit.
He said the cars would also have new brake ducts and mechanical changes.