The Taliban launched a ferocious assault on NATO's biggest base in Afghanistan to target either ace footballer David Beckham or British Foreign Secretary William Hague or Defence Secretary Liam Fox.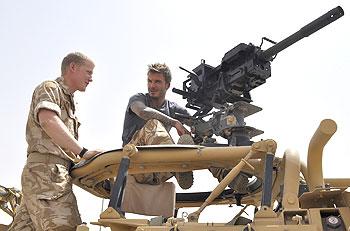 Taliban chiefs acted after learning that Beckham was in the war-torn country on a morale-boosting visit to British troops. They also discovered that Hague and Fox were meeting government officials on a separate trip.
The appearance of the trio was believed to have prompted Saturday's surprise attack on Kandahar airfield, the Daily Star reports.
"The Taliban could not resist the chance of taking out one of these VIPs. They weren't to know none of the three men were at Kandahar. It was one of the obvious places to have a go," a source said.
Beckham bravely shrugged off the security scare as he paid tribute fallen British men. He stood, solemn and head bowed, before a memorial at Camp Bastion in dangerous Helmand province to the 286 members of the UK Armed Forces who have given their lives.
Hours earlier at Kandahar airfield, gunners from RAF Regiment sprang into action as insurgents launched a "complex and well co-ordinated" assault. The base is home to nearly 27,000 troops including 1,000 Britsh soldiers.
One unit of Taliban opened fire on the base's Northern Entry Checkpoint, while a second group tried to storm the airfield perimeter. The attackers hit the base with five rockets, their trigger to launch a ground assault.
RAF Regiment troops caught and detained several insurgents and at least one Taliban was killed. The attack injured 13 US and Canadian troops.