Mark Webber [ Images ] swept to victory in the Monaco Grand Prix [ Images ] on Sunday in a Red Bull one-two that catapulted the Australian to the top of the Formula One leaderboard.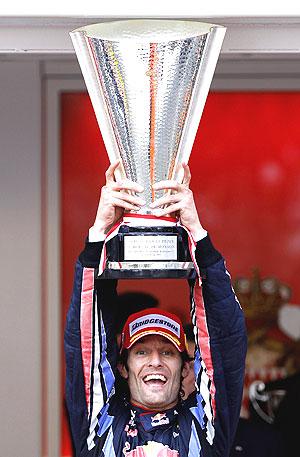 The first Australian winner in the Mediterranean principality since triple world champion Jack Brabham in 1959, Webber led from pole to finish for his second victory in a row and fourth of his career.
"Absolutely incredible, for sure this is the greatest day of my life today," Webber said.
The last Australian to lead the world championship was Alan Jones in 1981.
In a race punctuated by crashes and four safety car periods, including the last three laps, Germany's [ Images ] Sebastian Vettel [ Images ] anchored Red Bull's second one-two in six races with Poland's Robert Kubica [ Images ] third for Renault [ Images ].
Vettel crossed the line just 0.4 seconds behind the triumphant Webber, with the field queuing up behind the safety car to the final corner as the Red Bull mechanics leant over the pitwall to clap them home.
World champion Jenson Button [ Images ], who won in Monaco last year and had led the standings before the showcase race of the season, retired on the third lap with smoke coming out of his McLaren's [ Images ] engine.
Webber took over at the top with 78 points, the same number as Vettel who has just one win this year, with Ferrari's [ Images ] Fernando Alonso [ Images ] third with 73 after roaring from last to seventh in the race.
Button, who has also won twice this year, slipped to fourth place with 70 points.