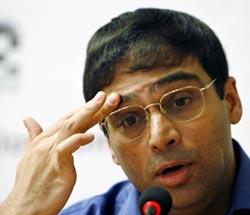 V
iswanathan Anand
is on top of the world.
For the first time in the history of chess championships, a player has won the world chess championship three times in a row. This is his fourth championship title.
Anand is arguably the greatest sportsperson India has ever produced. Without doubt, one can say he is one of the most accessible and gentle human beings, unaffected by the trappings of titles and stardom.
The World Champion spoke exclusively to Rediff.com's Shobha Warrier from Sofia, Bulgaria, after beating Veselin Topalov 6.5 to 5.5 in a thrilling final game to retain the title he won in 2008.
Congratulations to the World Champion!
Thanks a lot!
Of all the four titles you have won so far, was this one the toughest and the most eventful one?
Definitely, this was the toughest match. I have never played a championship where the result was fought till the last game. In some of the earlier matches, the match situation was such that we didn't even play the last game. But this was very unusual.
Yesterday morning, I had no idea whether I would wake up today morning as a champion or ex-champion, or whether we would be preparing for the tie-break. Anything could have happened.
Did that thought haunt you all the time before going to play the 12th game?
It was an unusual feeling when it comes to you. Then, you accept it and go to play. There is not much you can do.
Is this the sweetest championship you have won?
I think every championship is the sweetest when you win. I am not going to choose between them. I am happy with all of them. But this one took a lot of effort from all of us. We were all quite stressed, but we enjoyed too.
Due to unforeseen circumstances, when you had to make that 40-hour road journey to Sofia from Frankfurt, were you perturbed?
It was a very interesting experience. All of them tried to be cheerful while we travelled. There was nothing else we could do. We tried to be as calm as possible. You have to respect the volcano!
By the time we reached Sofia, everyone was exhausted. It was good that we got that one day postponement.
Did it make a difference?
Though we lost two days overall, that one day made a difference. We could take rest and then practice.
The very first game of the match came as a shock to everyone. The way it ended so fast, and the way you made the 23rd move shocked everyone. Even your expression after the move was that of shock....
I mixed up a move order. I was supposed to play the King in the next move, but I mixed up. The problem is, sometimes, it gets over immediately before you had the time to check it.
Do you feel the journey and the physical tiredness might have contributed to you making that mix up?
No, it can happen any time.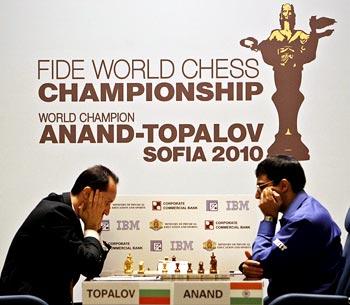 The move was described by experts as quite un-Anand like. Were you disturbed that night?
I tried to remain calm reminding myself that I have not lost the match and there are still 11 games left.
Do you feel winning the second game made a difference as you could come back immediately?
Yes, I could equalise immediately so that you could correct what happened in the first game and start afresh.
Which was the toughest game?
I think all games from 8 to 11 were very tough. I lost a game and then I should have won game 9. There were a lot of set backs during that period.
Favourite game?
The pleasant period was from games 2 to 5. I was very comfortable in those games. The two wins brought me back into the match.
Looking back, which was bad, Game 1 or Game 8?
Maybe I suffered more in Game 8.
Do you feel the match would have gone either way as most of the games were evenly poised?
Everyday when I woke up, I didn't know how the match would go. Yes, today, I have won but yesterday when I went to play, any result was possible. I would say neither player showed any dominance.
Before the match started, everybody wrote that it was advantage Topalov. He also made statements that he would never agree for a draw. Do these kind of statements put pressure on a player who has been playing for decades?
You never know about psychological warfare, but my team protected me completely from all this. I did not read any newspapers throughout the tournament. If he tried to put pressure on me this way, it didn't work because I simply didn't read his interviews or anything on the championship.
Do you think he had the home country advantage?
You know the crowd was cheering for him, but I never felt like an outsider. I also feel playing at home can work either way. It can give you pressure as you are playing in front of your countrymen. But then you also get more support.
You are on top of the world; it's like sitting on Everest. Do you feel like sitting there for long?
To be honest, if I am sitting on top of Everest, what I feel like is taking a nice, long nap! That is all I need right now.
Photographs: Oleg Popov/Reuters